Raising The Roof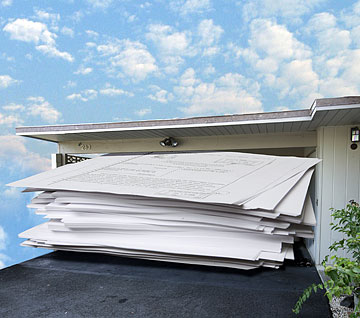 PHOTO ILLUS BY KIP AOKI / KAOKI@STARBULLETIN.COM
Hawaii homeowners with damaged roofs are upset that the state is horning in on a pending multimillion-dollar settlement from a banned contractor
---
The state is drawing the ire of Hawaii consumers after notifying them that it wants a cut of a pending settlement in a class-action lawsuit that was filed after a Canadian roofing company skipped town and left customers with leaky roofs and useless warranties.
Hawaii's Regulated Industries and Complaints Office fined Ivor and Mark Wenzel, father and son principals of Interlock Industries, $205,000 and revoked their license for deceptive business practices in 2005. However, the state has been unsuccessful in collecting the fine or blocking the junior Wenzel from making more money in the islands. The younger Wenzel has been circumventing a state order for the past four years by supplying a Hawaii roofing contractor with materials from Future Roof, another of his roofing companies.
Now, a different state agency wants to collect from Hawaii consumers to reimburse it for money that was paid out of the State Contractors Recovery Fund to settle uncollectible judgments levied against the Wenzels.
While the class-action suit in Hawaii is about to settle for millions, some residents of Hawaii and other states maintain that they have yet to receive closure regarding their experience with the two Wenzels and their affiliated companies.