Lowe's must clean up Iwilei site before opening its second outlet
The parcel previously was occupied by an oil storage tank facility
Lowe's Cos. will have to clean up contamination at its Iwilei site before opening its second home improvement outlet on Oahu.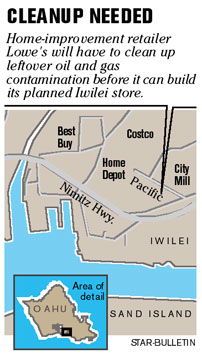 The 5.7-acre site near Home Depot and City Mill in Iwilei has soil and groundwater contamination that includes floating oil and gasoline, according to the state Department of Health.
The state issued a letter to Lowe's explaining it would have to clean up the contamination before moving forward with construction.
Lowe's spokeswoman Chris Ahearn says the cleanup could take between six to seven months, but that it plans to break ground in the fall, and is still targeting the second quarter of 2008 for the store's opening.
She said Lowe's does not disclose the cost for cleanups in such cases.
Mark Sutterfield, remedial project manager for the state Department of Health, said the department typically looks for compounds of oil and gasoline, along with lead-based components and metals. He said it was too soon to know how much the cleanup would cost.
The parcel on which the Mooresville, N.C.-based Lowe's plans to build was previously occupied by a ConocoPhillips storage tank facility. The site is close to rival home improvement retailers Home Depot and City Mill, in addition to Best Buy, Kmart and Costco Wholesale stores.
Lowe's, which entered the Hawaii market in 1993, has three stores in Hawaii: at Waikele Center on Oahu, Kona on the Big Island and Kahului, Maui.
Lowe's must present a remediation plan to the department, which will then seek public review before letting the company proceed with construction.
The Lowe's in Iwilei is expected to measure about 117,000 square feet.
Lowe's paid more than $35 million for the site back in 2005, when it also entered a program run by the state in which it volunteers to cooperate in any necessary cleanups.
The company said a typical Lowe's store costs $18.5 million to build and creates up to 175 new jobs.