HILIFE
Brewing up excellence
Yard House offers 130 beers
In a little side room at the Embassy Suites Hotel Waikiki Beach Walk, the temperature is a nippy 35 degrees.
Yard House Waikiki general manager Patrick Faas can see his breath when he speaks, but his voice is filled with pride as he describes the technology installed in the keg room of his restaurant.
"There's probably close to 400 kegs in here right now," he says, motioning toward the rest of the approximately 525-square-foot space. "It's all about temperature control -- the beer comes through here between 35 and 38 degrees, it's 36 or 37 degrees when it hits the glass, and it's served to our guests at about 40 degrees, which is the perfect drinking temperature."
Since its Feb. 11 grand opening, the Yard House Waikiki has set a new standard for imbibing in paradise. With 130 taps, more than 50 different wines and close to 40 different specialty drinks and martinis, local residents will need to visit more than once in order to try everything.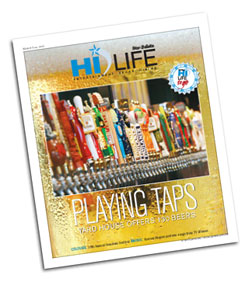 "I FEEL lucky to have grown up in Hawaii," Yard House founder Steele Platt says later via telephone from his office in Irvine, Calif. "Hopefully me coming back and starting a business there will inspire others to do the same."
Born on Oahu and raised in Kailua, Platt started the Yard House concept in 1996 with his first location in Long Beach, Calif. Since then, 14 other restaurants have opened across the country, from California and Arizona to Illinois, Kansas and Florida.
It's all about the beer at Yard House, with each location boasting between 130 to 250 taps and a proprietary distribution system to preserve quality and maintain a constant temperature. Customers can stick with tried-and-true favorites like Budweiser or Miller, but the fun starts when ordering brews like Bayhawk Chocolate Porter, Humboldt Hemp Ale or Stone Arrogant Bastard.
"I'm proud that I've brought in 40 or 50 new beer flavors that nobody in Hawaii has ever served," says Platt. "We paid a lot of money for that draft beer system. ... We bring beer to a new level."
Platt is also responsible for the music played at all 16 Yard House locations. Every day, he formulates a custom playlist that is distributed to each restaurant, including a playlist for the Waikiki restaurant that includes more than 150 classic Hawaiian tracks by artists like Kalapana, the Brothers Cazimero, Country Comfort and Israel Kamakawiwo'ole.
The music complements sporting events and other programming that airs on 18 different 42-inch plasma screens that are spread throughout the restaurant. In all, Platt says more than $300,000 was invested into the audio/video system at Yard House Waikiki.
BACK IN the keg room, Faas points out some of the technological aspects of beer distribution that the casual observer might overlook.
"We have several ways of ensuring the quality of our beer," he says while motioning toward a number of small black boxes connected to the kegs. "There are ultrasonic sound waves that actually go through the lines and keep them clean.
"A lot of times, you have minerals in the water and the beer that causes buildup in the lines. These make sure that doesn't happen, so everything stays clean."
More than five miles of beer lines are separated into groups of 10, then piped directly from the keg room to the bar via exposed tubes that run along the restaurant's ceiling. The Yard House Waikiki also has an extra 10 lines available for use in case the beer list grows.
Fresh water is also utilized when hooking up a new keg in the restaurant. Before any beer is served to customers, Yard House employees flush out the line with water to remove any impurities.
"It's time-consuming, but that's part of why we have such good-quality beer," Faas says. "And the water also helps to draw the beer out (of the keg), so there's less foam when it hits the tap."
Beers are poured in one of three kinds of glasses at the Yard House. Potent brews like Delirium Tremens, Lineman's Framboise or Spaten Optimator are served only in goblets. Everything else is available in a normal pint glass or by the half-yard (which equates to a pair of pints).
For customers looking to try something new without having to order a full glass, the restaurant offers a six-pack sampler in smaller glasses, which allows for tasting of different beers without getting too tipsy in the process. The list is changed every Tuesday.
EVEN THOUGH the beer is plentiful at the Yard House, the experience wouldn't be nearly as enjoyable without the knowledgeable staff who pour the drinks.
All servers and bartenders at the restaurant undergo extensive training to learn about the alcohol they serve. Bartenders are required to participate in a nine-day training program and are tested daily to assure managers that they are ready for action.
Jeff Larsen is one of the bartenders who finished the training. The 31-year-old Makiki resident has been a bartender for 10 years, but he never had to absorb as much information as he did before starting at the Yard House.
"It was the most intensive training I've undergone," he says from behind the bar. "Not only do we have to know the different beers, but we also have to know a few in each category ... (and) what most people don't realize is that we have to know a lot about the food as well.
"I'm superconfident. I've never felt so prepared at a job before."
On tap
Here's a sampling of some of the 130 beers offered at Yard House Waikiki.
Abita Purple Haze
Affligem Blonde
Anderson Valley Boont Amber Ale
Bayhawk Chocolate Porter
Belhaven Scottish Ale
Blue Hawaiian Primo Hefeweizen
Boddingtons Pub Ale
Carlsberg
Deschutes Black Butte Porter
Frankziskaner Hefe-Weisse
Grimbergen Double
Hollywood Blonde
Humboldt Hemp Ale
Kona Fire Rock Pale Ale
L.C. Apricot Wheat
Leffe
Lindeman's Framboise
Mad River Jamaica Red
Maredsous 10
Mendocino Red Tail Ale
Moretti Italian Pilsner
New Belgium Fat Tire
North Coast Pranqster
Ommegang Hennipen
Pabst Blue Ribbon
Paulaner Lager
Pilsner Urquell
Portland Oregon Honey
Radeberger Pils
Rogue Dead Guy Ale
Shiner Bock
Slo Blueberry Ale
Spaten Optimator
Stella Artois
Stone Arrogant Bastard
Stone IPA
Strong Bow Cider
Tetley's
Waimea Bay Pale Ale
Warsteiner Dunel
Woodchuck Dark and Dry Cider
Wyder's Raspberry Cider
Young's Chocolate Stout