---
FAST FACTS HAWAII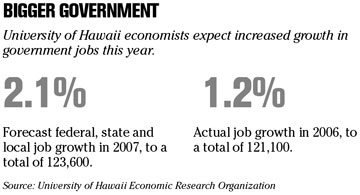 ---
CommPac joins global network
Honolulu-based
Communications-Pacific Inc.
has joined
IPREX Inc.
, an Atlanta-based international network of independent public relations companies.
"Communications Pacific provides a proven resource for our global clients who need a communications strategist with local and regional expertise," said Kathryn Blanchard, worldwide president of IPREX, in a statement.
At the same time, CommPac's selection to become one of IPREX's 58 members links the Hawaii company with some 1,000 PR practitioners in 27 countries.
Kitty Lagareta, chairwoman and chief executive officer of CommPac, said the partnership will bring "access to a range of new skills, expertise and people from leading independent agencies around the globe for our clients."
Mesa's isle load factor climbs
Go!'s load factor, which had its lowest month ever when it fell to 58.4 percent in January, rebounded slightly in February when 60.5 percent of its seats were filled on its 50-seat Bombardier CRJ-200 aircraft.
However, the number of passengers aboard its flights hit a monthly low of 49,506. That was down from the previous low of 53,208 in January.
Jonathan Ornstein, president and chief executive of go! parent Mesa Air Group, attributed the higher load factor but lower passenger count to there being only 28 days in February, aircraft maintenance checks and the carrier adjusting its schedule during the month to add one Honolulu-Hilo flight and dropping two shorter routes to make room.
[ HAWAII INC. ]
NEW HIRES / PROMOTIONS
» Century 21 All Islands has announced the following promotions:
Steven De La Pena
to vice president-Oahu and Hawaii Kai broker-in-charge;
Sandra Sakuma
to vice president of the fine homes and estates division; and
Diane Fujikami
to a full-time instructor position with the All Islands Real Estate School and All Islands University.
De La Pena will supervise all Oahu managing brokers and provide daily supervision of the Hawaii Kai office. He has more than 25 years experience as a real estate professional.
Sakuma will continue to work from the Hawaii Kai office and will also serve as a backup broker-in-charge.
Fujikami will continue to work with the education director in developing and delivering curriculum for education throughout the firm.
» KMH LLP has promoted John P. Quinn to principal from senior manager in the assurance and advisory services division. John helped launch the firm in 2002 and has worked in public accounting since 1989.
» The Hawaii Visitors and Convention Bureau has hired Julie Zadeh as managing director of travel trade marketing. She will be responsible for planning and managing HVCB's travel trade initiatives with agencies, wholesalers and online providers in the mainland U.S. and Canada. She previously served Expedia Inc. as director of market management for lodging in Hawaii.
» Nishihama & Kishida CPAs Inc. has announced the following promotions: Ryan Iwane to senior audit manager from audit manager; JoAnn Nakamura to senior audit manager from audit manager; Rommel Marzan to tax manager from tax supervisor; Ying Yan Chen to tax supervisor from tax senior; and Jie Li to audit supervisor from audit senior.
» Outrigger Condominium Collection has promoted Dale Stetson to regional director of Kauai. He will be responsible for the Outrigger Lae Nani and Outrigger Kiahuna Plantation properties on Kauai, and will continue to oversee daily operations as general manager for Outrigger Waipouli Beach Resort & Spa. He has more than 29 years experience in the hospitality field.
» Imanaka Kudo & Fujimoto has announced the hiring of three new associates: Austin A. Ching previously served Weber Shandwick Worldwide, specializing in technology companies. Daniel S.T. Kamitaki previously served as executive editor of the Southern California Interdisciplinary Law Journal. Jesse K. Souki previously served as deputy corporation counsel for the County of Maui and has more than 10 years of local, state and government insight.
» ResortQuest Hawaii has promoted Kukuiokalani Kaliko to front office manager from front office supervisor of the ResortQuest Kauai Beach at Makaiwa. She has previously served Aloha Airlines, Uniglobe Travel ad Grantham Resorts.
» T S Restaurants has promoted Rita King to human resources manager from manager and executive assistant. She will oversee all seven Hawaii restaurant locations, and will be researching and implementing policy for Hawaii and California based restaurants on current federal and state regulations. She previously served as director of operations for Select at Technicolor before joining T S Restaurants in 1999.
---
Ex-FAA exec jumps to JetBlue
NEW YORK »
JetBlue Airways Corp.
named Russell Chew, the former head of operations at the U.S. Federal Aviation Administration, its new chief operating officer.
Chew had been named executive vice president of operations of Hawaiian Holdings Inc.'s Hawaiian Airlines on Feb. 12. But JetBlue spokesman Bryan Baldwin said JetBlue made Chew a better offer and he accepted.
Chew, 54, joined the FAA in 2003 after 17 years at AMR Corp.'s American Airlines in Fort Worth, Texas. He will report to JetBlue President Dave Barger, who previously held the COO title in addition to president. Chew starts his new position March 19, the New York-based carrier said in a statement.
Atlanta's Hartsfield still busiest
GENEVA » Atlanta's Hartsfield International held its ranking as the world's busiest passenger airport in 2006, followed by Chicago's O'Hare and London's Heathrow, according to preliminary figures.
The preliminary numbers released this week cover only the top 30 airports; Honolulu did not make that list, which the council said may change slightly in June when final figures are released.
Some 84.8 million passengers went through Hartsfield-Jackson Atlanta International Airport, the Geneva-based Airports Council International said. O'Hare International Airport had 76.2 million, and Heathrow Airport 67.5 million.
Filling out the top 10 were Tokyo's Haneda Airport, with 65.2 million; Los Angeles International Airport, 61 million; Dallas-Fort Worth International Airport, 60 million; Paris Charles de Gaulle, 56.8 million; Frankfurt Airport, 52.8 million; Beijing Capital International Airport, 48.5 million; and Denver International Airport, 47.3 million.
Feds accuse Walgreen of bias
WASHINGTON »
Walgreen Co.
, the largest U.S. drugstore retailer, was sued by the U.S. Equal Employment Opportunity Commission for allegedly assigning employees and denying promotions based on race.
The company, based in Deerfield, Illinois, sent managers, management trainees and pharmacists to low-performing stores, and to stores in black communities, because of their race, the agency said today in a statement. Walgreen also denied employees promotional opportunities in violation of federal law, the EEOC said.
The U.S. lawsuit follows a court victory for the company last month in a case also related to discrimination allegations. Walgreen won a jury verdict in a suit brought by four Texas men who claimed a clerk used a racial slur when they tried to have film developed at a store in Reno, Nevada.
---
BUSINESS PULSE