---
FAST FACTS HAWAII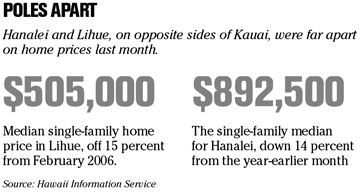 ---
Condo planned for Pensacola area
A new boutique condominium is planned for the corner of Pensacola Avenue and Kinau Street in the summer of 2008.
The Chelsea will be a five-story condominium at 1310 Pensacola St., offering 44 units, most of them with one bedroom. Reservations for sales will start Sunday.
Prices for one-bedroom units at the Chelsea, which will measure about 650 square feet, while two bedrooms would be about 950 square feet, will begin at $335,000.
Coldwell Banker Pacific Properties is handling sales for the developer, Pensacola Chelsea Building LLC.
HawTel portal courts businesses
Hawaiian Telcom
has launched a new online portal to attract more business customers.
The business portal, at http://business.ha-waiiantel.com, offers industry-specific information on the company's voice, data, Internet and wireless services.
The number of Hawaiian Telcom's business customers has been slipping. Last March the company had 232,651 business lines, compared to 229,136 as of its most recent quarterly report, released last September.
"The market for business communications services is fiercely competitive, and we view it as a growth area," said Daniel Smith, company spokesman.
---
U.S. firms invest in China Web site
NEW YORK » A group of U.S. venture capital firms, including Disney's investment arm, was set to announce today that it had invested $23.5 million in
UUSee
, a major Chinese site for Web video.
UUSee distributes live and on-demand TV from CCTV, China's largest TV broadcaster; CSAT, China's largest satellite TV company; and Beijing TV. The content includes subtitled U.S. shows like "CSI: Miami" and "24."
The investment round was led by Draper Fisher Jurvetson and Highland Capital Partners. It included Steamboat Ventures, the venture-capital vehicle of the Walt Disney Co. Two other firms, Sequoia Capital and Susquehanna International Group, invested in UUSee in a previous round and joined in this one.
The site has 36 million registered users, making it China's largest Web TV operator, according to Dan Nova of Highland.
Allstate hit for 'drive-by' inspections
BATON ROUGE, La. » Louisiana's insurance chief criticized the
Allstate Insurance Co.
yesterday for what he called "drive-by" inspections that led to the erroneous cancellation of 4,700 homeowner policies in parishes hit by Hurricane Katrina.
Insurance Commissioner Jim Donelon ordered Allstate to cease its current inspection methods, saying the insurer could face fines if it fails to comply. He also ordered the insurer to reinstate homeowners whose policies were dropped because of the inspections.
Allstate Insurance disputed Donelon's account, insisting that the inspections were thorough, but had no other immediate response to Donelon's order.
Illegal aliens hired for military work
BOSTON » A leather company owner was arrested during a raid at his company yesterday and accused of hiring hundreds of illegal immigrants to work in poor conditions so he could meet the demands of $91 million in military contracts.
Francesco Insolia, 50, and three top managers were arrested after federal agents raided Michael Bianco Inc. in New Bedford yesterday. About two thirds of the company's 500 employees were detained by immigration officials for possible deportation, authorities said.
U.S. Attorney Michael Sullivan accused Insolia of exploiting the illegal immigrants to maximize his profits on the military contracts to make backpacks and safety vests for soldiers.
Insolia was released after his court appearance and declined comment. His wife, Suzanne Thompson, said the government's allegations.
"None of that is true," she said.
BP outgoing CEO's bonus slashed
LONDON »
BP PLC
cut outgoing Chief Executive John Browne's bonus almost in half last year as oil spills and safety lapses in the United States overshadowed record profits for the oil company.
Browne's annual performance bonus for 2006 was cut to 900,000 pounds ($1.74 million), from 1.75 million pounds the year before, according to BP's annual report released yesterday.
While his basic salary rose to 1.53 million pounds ($2.95 million) from 1.45 million pounds, Browne's total compensation -- including salary, bonus, non-cash benefits and annual long-term remuneration paid last month -- fell 28 percent to 4.57 million pounds ($8.81 million), from 6.36 million pounds. It was the second year running that Browne took a pay cut.
The details of Browne's salary were released as BP revealed in a separate filing to the U.S. Securities and Exchange Commission that the Department of Justice has issued grand jury subpoenas for documents and testimony related to a March 2005 explosion at its plant in Texas City, Texas, that killed 15 people.
---
BUSINESS PULSE