WAC TOURNAMENT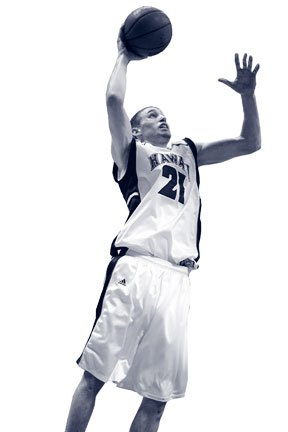 GEORGE F. LEE / GLEE@STARBULLETIN.COM
Senior Matt Lojeski leads the Rainbows in scoring with 16.8 points per game.
Wallace: 'We win or
we go home'
Defending champion Nevada is the favorite
LAS CRUCES, NM » With the team laboring through a ragged stretch at practice, Hawaii coach Riley Wallace took the opportunity to remind the Rainbow Warriors of the stark reality of tournament play.
"We win or we go home," Wallace barked.
The Rainbows got some of the jet lag out of their system yesterday with their workout at Onate High School in Las Cruces and have two more days to sharpen their game before taking on Utah State in the quarterfinals of the Western Athletic Conference basketball tournament.
"Coach is a straight-up guy," UH guard Matt Gibson said. "He's going to tell you how it is ... and he's right."
The tournament opens today at the Pan American Center with No. 8 San Jose State and No. 9 Idaho playing in the opening round for the right to face top-seeded Nevada in the quarterfinals on Thursday.
The fifth-seeded Rainbows (18-12, 8-8) and fourth seed Utah State (21-10, 9-7) meet at 11:30 a.m. Thursday, with both striving for a postseason berth.
The semifinals are Friday, with the championship -- and the automatic berth to the NCAA Tournament -- awarded on Saturday.
THE RAINBOWS SPENT most of Sunday traveling to Las Cruces, and have a few days to prepare for the rubber match of their series with Utah State.
"We'll be acclimated," said Wallace, who would like to delay the end of his UH career a while longer. "(Yesterday) was a typical off-the-plane kind of practice. They worked hard and everything, but the shots were off."
While Nevada probably has an NCAA Tournament berth wrapped up regardless of this week's outcome, other teams need a strong tournament to enhance their postseason résumés.
Along with the Wolf Pack, three other teams -- New Mexico State, Fresno State and Utah State -- have already passed the 20-win mark.
For Hawaii, a run into the later rounds could put the 'Bows in the conversation when National Invitation Tournament berths are awarded. But speculating on the Rainbows' chances "is all guesswork," Wallace said. "All I do is remind (the 'Bows) if we're one-and-out it's probably over."
Recent WAC tournament history hasn't been kind to the Rainbows, who haven't advanced past the quarterfinals since 2003. In two of the last three years, last-second shots stayed out of the rim to send UH to a two-point loss to Rice in 2004 and a one-point heartbreaker against New Mexico State last year.
But Hawaii does own a prominent place in the tournament's history of unpredictability. In 2001, the Rainbows stumbled early in the WAC season, got hot late and won the tournament as a fifth seed. This year's club got off to a 1-5 WAC start, and enters the tournament on a four-game winning streak to secure the fifth seed.
"I think we have more confidence now than we've had all season," Gibson said. "We've been taking steps all season and getting better, coming together as a team. Now is the time we need to peak."
The WAC regular season followed form as the teams finished in the exact order predicted in both the coaches and media preseason polls back in October. And most of the teams can find reasons to believe they can make a run this week.
Defending tournament champion Nevada enters as the favorite after winning its fourth straight regular-season title, led by All-America candidate Nick Fazekas and three-time WAC Coach of the Year Mark Fox.
New Mexico State, the first-time tournament host, went 16-1 at home and Reggie Theus' team has the talent and depth to reel off three straight wins this week.
Fresno State is the league's hottest team, winning six straight to close the regular season. Utah State features the WAC's scoring champion and upset Nevada at home last week.
Boise State demonstrated the unpredictability of tournament play two years ago when the Broncos upset host Nevada in the quarterfinals and reached the title game as the eighth seed.
"There's got to be a lot of anxieties out there for all the coaches," Wallace said.
Team-by-team previews
Following is a look at the field entering the tournament.
1. Nevada (27-3, 14-2)
Coach
: Mark Fox
Leading scorer/rebounder: F Nick Fazekas 20.9 ppg/11.3 rpg
The Wolf Pack continued to be the conference's marquee member, rising into the top 10 in the national rankings. Though Fazekas, the three-time WAC Player of the Year, remains the Pack's most prominent figure, the rest of the starting five has been formidable. All-WAC guard Marcellus Kemp made 73 3-pointers and point guard Ramon Sessions ranks second in the league with 139 assists. Guard Kyle Shiloh is one of the league's premier defensive players and forward Denis Ikovlev can make a difference as a quality role player.
2. New Mexico State (22-8, 11-5)
Coach
: Reggie Theus
Leading scorer/rebounder: F Justin Hawkins 15.6 ppg/6.9 rpg
A talented lineup and the comforts of home could send NMSU to its first NCAA Tournament since 1999. The Aggies went 16-1 at the Pan American Center and led the WAC with 78.3 points per game. Hawkins, a transfer from Utah, paces the Aggies, along with forward Tyrone Nelson (11 ppg, 6.6 rpg). Guard Fred Peete (10.6 ppg, 77 assists) suffered an ankle injury late in the season and missed the last three games.
3. Fresno State (22-8, 10-6)
Coach
: Steve Cleveland
Leading scorer/rebounder: F Quinton Hosley 14.4 ppg/F Dominic McGuire 9.7 rpg
The Bulldogs were in the midst of a 3-6 stretch -- which included two lopsided losses to Hawaii -- when they turned their season around by winning their final six games of the regular season, making them the team to avoid entering the tournament. They were the only visiting team to leave New Mexico State and Utah State with road wins. The combo of Hosley and McGuire has been tough to stop, while point guard Kevin Bell leads the WAC in assists.
4. Utah State (21-10, 9-7)
Coach
: Stew Morrill
Leading scorer/rebounder: G Jaycee Carroll 21 ppg/6.2 rpg
The 6-foot-2 Carroll's energetic style helped him not only win the league scoring title but lead the team in rebounds. His 44-point performance against New Mexico State was the league-high this season. The Aggies lost three of their last four regular-season games, but their lone win in that stretch was an overtime victory over Nevada last Thursday. Forwards Chaz Spicer (10.9 ppg) and Stephen DuCharme (10.3) are the Aggies' top inside producers.
5. Hawaii (18-12, 8-8)
Coach
: Riley Wallace
Leading scorer/rebounder: G Matt Lojeski 16.8 ppg/F Ahmet Gueye 8.3 rpg
Wallace is approaching the end of his 20-year Hawaii career with the Rainbows on a four-game roll. Since tweaking the defense after a rough start in WAC play, the Rainbows have been among the league's stingiest teams, allowing opponents to shoot 39 percent. Lojeski is coming off a career-best 35-point performance against Boise State last Saturday.
6. Boise State (16-13, 8-8)
Coach
: Greg Graham
Leading scorer/rebounder: G Coby Karl 14.8 ppg/F Matt Nelson 9 rpg
The Broncos were a streaky team late in the regular season, winning five straight before dropping their last three. Karl was a first-team All-WAC pick and newcomers Nelson and Reggie Larry have given Boise State a solid inside presence. Nelson shot a league-high 59 percent from the field, while Larry ranked 10th in the league in scoring (13.9) and sixth in rebounding (8.1).
7. Louisiana Tech (10-19, 7-9)
Coach
: Keith Richard
Leading scorer/rebounder: G Trey McDowell 13.3 ppg/F Chad McKenzie 7.3
There were two different Bulldog teams this season -- the one that averaged 75.6 points while going 6-2 in Ruston, and the other that scored 59.1 per game on its was to a 1-7 road mark. McDowell and McKenzie (13 ppg) are the only Bulldogs averaging double-figure scoring.
8. San Jose State (5-24, 4-12)
Coach
: George Nessman
Leading scorer/rebounder: G Carlton Spencer 13.9 ppg/F Menelik Barbary 6.3 ppg
The Spartans had lost five straight before closing the regular season by beating Idaho last Saturday in a preview of today's game. Spencer is coming off a season-high 26 points against the Vandals. San Jose State has won just one of 10 WAC tournament games since joining the league in 1996.
9. Idaho (3-26, 1-15)
Coach
: George Pfeifer
Leading scorer/rebounder: G Keoni Watson 18.2 ppg/F Darin Nagle 5.8
Watson's scoring prowess has been among the few highlights in Pfeifer's first season as coach. The 5-foot-10 Watson dazzled the Hawaii crowd last Thursday by scoring 34 points and finished in a tie for third in the WAC scoring race.