| | |
| --- | --- |
| | Newswatch |
---
CATCHING ON: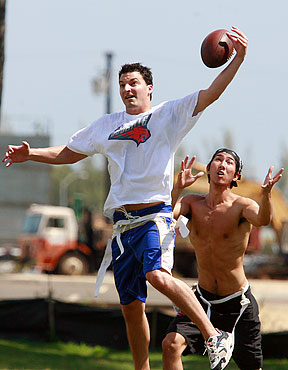 City is cited for eco-friendly cars
Honolulu ranked second among the 50 largest U.S. cities in the number of city fleet vehicles using alternative fuels, according to a new study.
The survey released yesterday by SustainLane Government said Honolulu has 51 percent of fleet vehicles using alternative fuels, second only to Las Vegas' 63 percent.
SustainLane surveyed the 50 largest U.S. cities to determine the percentage of city vehicle fleets using alternative fuels such as biodiesel, hydrogen, ethanol, compressed and natural gas. It also surveyed electric and gas-hybrid vehicles used.
SustainLane Government bills itself as an online resource that provides information on sustainable practices to governments, businesses and consumers.
The remaining top 10 cities were Kansas City, Mo. (45 percent); Albuquerque, N.M. (42 percent); Dallas (39 percent); Denver (31 percent); Phoenix (28 percent); and Los Angeles, Seattle and Portland, Ore. (25 percent each).
For more information: www.sustainlane.us.
Smoke sends flight back to isles
LOS ANGELES » An American Airlines flight heading to Honolulu returned to Los Angeles yesterday after the pilot reported smelling smoke.
It was not immediately known whether the smell came from the cockpit or the cabin, but no injuries were reported, said airline spokesman Tim Wagner.
"It was a precautionary diversion," he said.
Some time after the Boeing 757 departed from Los Angeles International Airport at 6:10 p.m., the pilot reported smelling smoke and requested an emergency landing, Wagner said.
The jet landed safely at about 7:50 p.m. and was undergoing inspection.
Wagner said he did not have immediate information on the number of passengers aboard the flight. He said some passengers were transferred to a 9 p.m. flight to Honolulu, while the rest will board a flight today.
Students to decide on book award
Students from grades four through six may help select this year's Nene Award-winning book at their school or public libraries until March 16.
Each student may only vote once for their favorite book.
To learn more about the award, find out what books are eligible, and what books are on this year's recommended reading list, go to nene.k12.hi.us.
March 16 is also the deadline to submit entries for the four categories of Nene Award contests: essay, poster, performance and digital arts. They all pertain to last year's award winner, "Eragon," by Christopher Paolini. Visit the same Web site for more details, and submit entries to any public library.
The contest winner will be invited to share their work at an awards ceremony in May, when the winning book will be announced.
---
SHINING STARS
---
Students honored for service
Kendra Kawamura
, 16, of Lihue and
Jordan Bayang
, 13, of Wahiawa were named Hawaii's top two youth volunteers for 2007 by the Prudential Spirit of Community Awards, a nationwide program honoring volunteerism. Each received $1,000 and a trip in early May to Washington, D.C., for the award ceremony.
Kawamura, a junior at Kauai High School, developed a program to decorate the dining hall of a Salvation Army soup kitchen with a different theme each month.
Bayang, an eighth-grader at Ho'ala School, has read to preschoolers, picked up trash around the community, collected clothing for a local shelter and helped educate the public about green sea turtles.
---
Janis Casco, a financial planner and owner of Casco Wealth Management LLC, is donating $1.5 million in net earnings from the sale of a property toward a scholarship endowment fund for Maui Preparatory Academy.
---
» The Japanese Cultural Center of Hawaii received $50,000 from the Island Insurance Foundation to benefit the Hokule'a's voyage to Japan and Micronesia. The Japanese center is a Community Partner of the Polynesian Voyaging Society project.
---
"Shining Stars" runs Mondays through Thursdays.
| | |
| --- | --- |
| | Police, Fire, Courts |
---
THE COURTS
Judge jails teacher till drug trial
A U.S. District Court judge granted the federal government's motion to detain a 38-year-old teacher who was recently charged with drug and conspiracy charges.
Magistrate Judge Leslie Kobayashi said yesterday that she has concerns about the firearm recovered from Bronwyn Marie Kugle's home the day she was arrested and that she had previously undergone drug treatment.
Kugle, a resource teacher at Kaelepulu Elementary School, will remain at the federal detention center until her trial at 9 a.m. April 24 before U.S. District Judge Susan Mollway.
Last month, Kugle was charged with drug and conspiracy charges. On Feb. 13, law enforcement arrested Kugle stemming from a shipment of 990 Ecstasy tablets and 2.2 grams of cocaine. Officers also recovered from her home a glass pipe with methamphetamine residue and a loaded snub-nose .38-caliber revolver.
During the detention hearing, defense attorney Howard Luke said Kugle will undergo a drug exam. Afterward, Luke might request that Kugle be transferred to a drug treatment facility.
HONOLULU
Argument is followed by alleged assault
Police arrested a 37-year-old Salt Lake man who allegedly held a woman against her will and then assaulted her.
Police said the man and the 23-year-old victim were arguing in the suspect's car that was parked on Likini Street at about 5:15 p.m. Sunday.
The suspect refused to let the victim out of the car and then assaulted her.
Police later arrested him on suspicion of kidnapping.
Boyfriend arrested in abuse of woman
Police arrested a 38-year-old Kalihi man who allegedly choked his girlfriend Sunday.
Police said the man and his 38-year-old girlfriend were arguing at about 5:15 p.m. at their house. Police said the man grabbed his girlfriend from behind and choked her, making it hard for her to breathe.
Police said the girlfriend got away after she bit the man.
Police later arrested the boyfriend for investigation of abuse of a family or household member.