Hit-and-run killers loose
» Deaths go unsolved: 8 die in 3 years
» Cases remain active: Police ask for witnesses
When Carl Johansen was struck and left for dead on a Makaha road last Monday, his name was added to a frustrating and growing list for Honolulu police investigators.
The driver who struck and killed Johansen, 63, on Farrington Highway did not stop. It is the eighth case in less than three years of an unsolved fatal hit-and-run accident on Oahu's roads.
Police would not comment on the individual cases, citing ongoing investigations. But investigators say any resident who witnesses a hit-and-run accident should remain at the scene and not assume that someone else saw it and will report it to police.
Arrests and prosecutions are difficult without witnesses, authorities say. More eyes and ears at the scene mean more leads.
Police said all unsolved hit-and-run cases remain open until there is a prosecution.
The most common reason suspects flee an accident scene is fear of prosecution, said Sgt. Daniel Kaholokula, of the HPD's Vehicular Homicide Section.
A mother wants closure, but experts say hit-and-run drivers do not respect human life
Since her son was left for dead on the road more than a year ago, 65-year-old Ida "Gina" Flores spends a lot of time crying -- and wondering.
Sometimes she reads the Bible and falls back on her faith. But with no arrests or suspects, finding peace and meaning in the 2005 hit-and-run death of Ray "Junior Boy" Flores has been a constant struggle.
"It's not supposed to be like this," she said last week. "Drivers have to have consideration to stop. If they don't, it drags everybody down in the family. These kine people, they don't have a guilty conscience."
"I don't know who or where they are, but they knew my son died. Whoever did this to my son is still out there."
Ida Flores,
mother of Ray Flores, who was killed Oct. 24, 2005, in a hit-and-run
Ray Flores' case is one of eight unsolved hit-and-run fatality cases on Oahu since June 2004, according to police. Without witnesses, the cases yield no resolution for traffic investigators and the victims' families.
The latest occurred last Monday in Makaha. Carl Johansen, 63, was walking outside of a crosswalk on Farrington Highway when he was hit by a dark-colored vehicle in front of his residence, the Makaha Surfside Apartments.
None of the eight cases has led to arrests, and all remain open for investigation, police said.
No arrests means a lack of closure for many of the victims' loved ones, said Leon James, a University of Hawaii psychology professor who studies driving psychology.
"They feel like they've been neutralized without any power whatsoever to fight back or redress what has happened," James said. "In some cases it's a kind of silent rage that cannot be expressed against the offender."
Families of hit-and-run victims often grope for a reason why their loved one had to die, James said, and the grief can last for a long time.
"It's the process of getting satisfaction that it wasn't just a random event that was meaningless," James said. "They're fighting the meaning of the event so they can come to some answer they can live with."
There have been no answers for Ida Flores, just questions surrounding the early morning of Oct. 24, 2005.
That morning, 43-year-old Ray Flores was riding a bicycle west along Nimitz Highway near Pacific Street. At about 1:54 a.m. he was struck by a vehicle and left for dead. Police recovered a passenger-side mirror, but no arrests have been made.
REMEMBERING RAY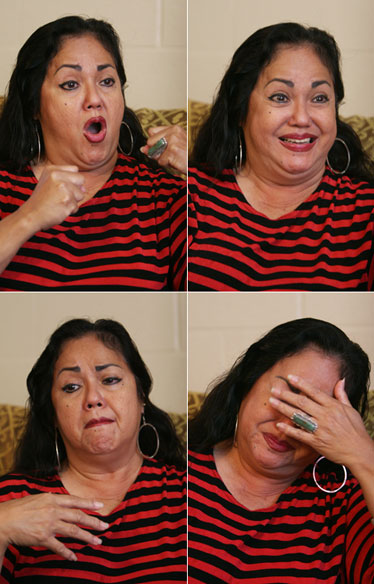 Since her son's death, Ida Flores has had several bouts with depression and battled pneumonia three times. She has her family's support, but it drives her to tears knowing that the driver who was responsible is still out there.
"From the time my son died, I cry and I don't cry," she said. "It's not like ... where you can just let it all go and break down. I haven't come to that point yet."
Flores said there was a lead shortly after her son's death. A woman had called in and mentioned that a man nicknamed "Boom" and another woman knew something about Ray Flores' death. But those leads never panned out.
"I don't know who or where they are, but they knew my son died," she said. "Whoever did this to my son is still out there."
James said there have been some cases where the drivers claimed they did not even know they hit anyone. Other times, they panic.
"If you're not prepared for hitting someone, you would enter a panic stage," James said. "Your thinking is impaired so you cannot foresee the correct consequences and that you cannot identify and sympathize with the victim. The victim is no longer a human being."
Some drivers might flee because they lack insurance or they are intoxicated, or there is a warrant out for their arrest.
"By then it's no longer just panic," James said. "It's a premeditated plan to avoid justice."
Both James and Sgt. Daniel Kaholokula of the Honolulu Police Department's Vehicular Homicide Section said it also comes down to personal beliefs and responsibility, and the driver's respect level for other human life.
But Ida Flores said drivers must also consider the other victims of the accident: the loved ones left behind. A plea for closure is all she said she would make if she faced the driver who killed her son.
"How can you live with yourself? Every morning when you look in the mirror, what do you see?" she asked. "Whoever you are, just please turn yourself in so that you can live a better life, whatever life you have left on this earth."