$1 million sought for pedestrian road safety
The state Senate acts on a bill even as two people are hit
State lawmakers want $1 million to make immediate improvements to pedestrian safety, seeing a need for action after a rash of accidents involving fatalities and critical injuries this year.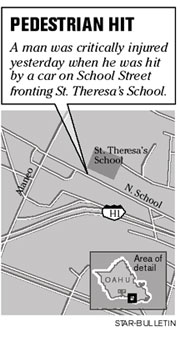 Underscoring that need, two people were run down on Oahu streets yesterday, including a 92-year-old man who was critically injured.
The Senate Ways and Means Committee amended a bill this week to add an estimated $1 million in funds for immediate actions for pedestrian safety starting July 1. Senate Bill 1191 originally proposed only a $1 million study of intersections that would determine where crossing times are insufficient for elderly and disabled pedestrians.
"We looked at this and saw a pressing need," said Sen. Rosalyn Baker, committee chairwoman, in a news release. "The committee recognized that we need to do something right now to provide greater safety on our streets."
While no amount has been affixed to the bill because improvement costs have not been compiled, Baker estimated the funding requested would be $3 million -- $1 million each for the next two fiscal years and $1 million for the original study.
Yesterday at 8:15 a.m., a 92-year-old man walking across North School Street near St. Theresa's School sustained critical injuries after a vehicle hit him. The man, who was in a crosswalk, was taken to the Queen's Medical Center.
At about 8 a.m. a 47-year-old woman was hit by a car on Farrington Highway by the Kapolei Safeway. Paramedics took her to Hawaii Medical Center West in serious condition.
Nine pedestrian have been killed so far this year on Oahu, compared with 20 in all of last year. Seven of the nine killed this year were residents 65 or older, while 11 of the 20 killed last year were elderly residents.
"People need help on the street right now," said Bruce Bottorff, associate director of AARP Hawaii, which has led the push for pedestrian safety in Hawaii.
Police said they were going to start issuing tickets to motorists and pedestrians tomorrow for ignoring crosswalk laws.
Crosswalk Crisis
Immediate improvements for pedestrian safety that do not require extensive studies in Senate Bill 1191:

» Recalibrate traffic signals to lengthen crossing times.

» Install traffic countdown timers at dangerous intersections.

» Develop a public awareness campaign.

» Start pilot projects such as pedestrian-activated flashing signals or portable flags.

» Install advance crossing markers on roadways.
The proposed study in the pedestrian safety bill would take up to 18 months before improvements and changes could be made. The new draft would provide money for changes on July 1.
Lawmakers also suggest that the state Department of Transportation and counties work with the AARP to decide what changes to make. In a study last fall of 50 intersections statewide, AARP found 37 percent of the intersections did not provide enough time for people to cross.
Possible improvements include recalibrating crosswalk signals to increase crossing times, adding countdown timers to select intersections and funding a public awareness campaign.
Scott Ishikawa, spokesman of the Department of Transportation, said immediate funds for improving pedestrian safety could be used on road improvements, such as re-striping crosswalks, or educational programs.
"Anything at this point would help," he said, adding that changes would require a team effort between the state and four counties, which operate the crosswalks.
Bottorff said the money could be spent on fixing the most dangerous intersections for now.
Gareth Sakakida, managing director of the Hawaii Transportation Association, representing 350 members in Hawaii's transportation industry, had not seen the bill amendments, but said the association would not oppose a measure to help citizens get across the street safely.
"We need to take immediate steps to save human lives now," Bottorff said. "Clearly, we're on a pace that is going to far outstrip anything we've seen in recent years, and it is an extremely sobering situation."