| | |
| --- | --- |
| | Newswatch |
---
BANZAI FOR THE KIDS!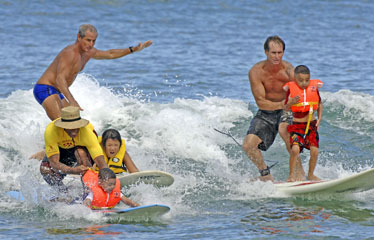 17-year veteran to head isle FBI office
The FBI has selected a 17-year veteran as the new special agent in charge of the bureau's Honolulu Division.
Janet L. Kamerman replaces Charles Goodwin, who retired earlier this month, the FBI announced this week. Kamerman previously served as special assistant to FBI Director Robert Mueller II.
She has also served as assistant special agent in charge of the Washington, D.C., field office; unit chief and supervisor at FBI headquarters; and Houston field office supervisor and investigative agent.
Building deadline set for Kauai landowners
LIHUE » Kauai Mayor Bryan Baptiste says the county will impose a June 15 deadline for any landowners looking to build additional dwelling units on their agricultural properties.
The additional houses on lands zoned agricultural or open were allowed under county ordinance, but that will expire June 15 by order of the County Council, Baptiste said yesterday.
Property owners will be able to submit plans after June 15 as long as they fill out an ADU Facilities Clearance Form by the deadline, said County Planning Director Ian Costa.
The last day a building permit will be issued will be in December 2009, so plans need not be finished by June.
About 2,000 landowners had the potential to build ADUs on their land. So far, about 800 have done so, Costa added.
UH law students place first in competition
Two University of Hawaii law students won first place in the National Native American Law Students Association's 15th Annual Moot Court competition.
The team of Scott E. Hovey Jr. and Anosh Yaqoob won first place in the Best Advocacy division Feb. 17 in Minnesota. Yaqoob also came in second as Best Oralist.
Both are second-year students at the UH William S. Richardson School of Law. Hovey, a resident of Honolulu, is a graduate of Kamehameha Schools and Brigham Young University at Provo, Utah. Yaqoob, of Salt Lake, is a graduate of 'Iolani School and UH.
Another UH team of Moani Crowell, a Big Island resident, and Greg Schlais of Pauoa made it to the top eight in rankings.
The moot court competition deals with legal issues in federal Indian law.
| | |
| --- | --- |
| | Police, Fire, Courts |
---
LEEWARD OAHU
74-year-old man nabbed in sex assault
A 74-year-old Ewa Beach man was arrested Thursday for allegedly sexually assaulting a teenage girl.
Police said a witness reported seeing the man sexually assault the girl at 2:24 p.m. Thursday.
The man was arrested 9:45 p.m. near his home for investigation of first-degree sexual assault.
WINDWARD OAHU
Husband allegedly chokes wife in fight
Police arrested a 20-year-old Kailua man Thursday after he allegedly punched and grabbed his 21-year-old wife by the throat before their landlord intervened.
The couple were arguing at about 3:30 a.m. when the husband allegedly grabbed her throat and began choking her.
The man was arrested on suspicion of felony abuse of a household member, police said.
The woman suffered pain to her wrist, head and body and had difficulty breathing, police said.
WAIKIKI
New Year's Eve theft suspect is arrested
Police arrested a 34-year-old woman Wednesday in connection with a New Year's Eve theft in Waikiki.
A Waikiki retail store reported a shoplifting case at 11 a.m. New Year's Eve. A video surveillance camera recorded a woman removing merchandise from the display racks and then hiding it before leaving.
Police found the suspect Wednesday and arrested her on suspicion of second-degree theft.
Witness sees couple trying to take car
Police arrested a man and a woman Thursday who allegedly tried to steal a car in Waikiki.
Police said a witness saw a man punching in the lock on the driver-side door of the car at about 10:30 a.m.
The man allegedly got into the car and punched the vehicle ignition. The witness also saw a woman get into the passenger side of the car.
The witness called police, who arrested both suspects, a 30-year-old man and 40-year-old woman, for investigation of unauthorized entry into a motor vehicle and auto theft.
HONOLULU
Woman allegedly harasses ex-husband
Police arrested a 42-year-old woman Thursday for allegedly harassing her ex-husband.
At about 6:45 p.m., the woman entered her ex-husband's Makiki residence despite a court order to stay away, police said.
The woman allegedly verbally harassed the 38-year-old man. She was later arrested on suspicion of unlawful entry and violating a restraining order.
Man who allegedly stole copper arrested
Kalihi police arrested a 51-year-old man who allegedly stole 100 feet of copper wiring from an Iwilei electric company.
Police said the man stole the 54 pounds of wiring from Siu's Electric Co., at 500 Alakawa St., and tried to sell it on Feb. 18 to C.M. Recycling.
But the suspect failed to have proper identification as required by law, so he allegedly had an acquaintance with an ID sell the copper to the recycling firm.
The acquaintance then handed the money over to the suspect, police said.
Police arrested the suspect Wednesday on suspicion of third-degree theft.
Kaimuki man threatens his mom with a knife
Police arrested a 20-year-old Kaimuki man for allegedly threatening his mother with a knife.
Police said that about 2:05 p.m. Tuesday, an argument between the suspect and his 53-year-old mother escalated when he threatened her with a knife.
He was arrested on suspicion of terroristic threatening.
Pedestrian critically injured on School Street
A pedestrian was critically injured when he was hit by a car this morning on School Street.
The accident happened at about 8:15 a.m. fronting St. Theresa's School at 712 N. School St.
Police said the victim was in a crosswalk heading to the makai side of School Street when he was hit by a car traveling in the Diamond Head direction.
He is 92-years-old, according to Emergency Services Department spokesman Bryan Cheplic.
The driver of the car, an 80-year-old Wahiawa man said he didn't see the victim because the sun was in his eyes.
The victim was taken to the Queen's Medical Center.
Nine pedestrians have been killed on Oahu roads this year including 63-year-old Carl Johansen, who was killed by a hit-and-run driver in Makaha on Tuesday night. A total of 20 pedestrians were killed in all of last year.
CENTRAL OAHU
Acquaintance caught in assault of woman
Police arrested a 24-year-old man for allegedly sexually assaulting a woman in Mililani on Sunday.
Police said the suspect and victim, 21, are acquaintances. Police arrested the suspect Thursday on suspicion of second-degree sexual assault.