---
FAST FACTS HAWAII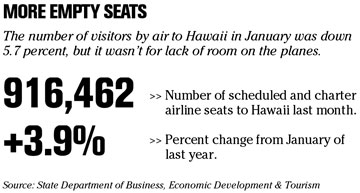 ---
[HAWAII INC.]
AWARDS/CERTIFICATIONS
» The State Farm Youth Advisory Board has awarded the
East-West Center
$70,075 for its Partnership for Youth in Building Disaster-Resistant Communities program. The grant was awarded based on a series of service-learning initiatives developed by a committee of high school students drawn from the center's program. The aim of the program is encourage youth to educate themselves and their communities on disasters and disaster mitigation.
BOARD ELECTIONS
» The Friends of the Cancer Research Center of Hawaii has elected
Adelia C. Chung
and
Earl Stoner
to its board of directors. Chung is president of the Alana Dung Research Foundation and a board member of the Nuuanu YMCA. Stoner was president and owner of S&F Land Co. and was on the YMCA board in Maui for 20 years.
NEW HIRES / PROMOTIONS
» Alexander & Baldwin Inc. has promoted
Paul K. Ito
to vice president, controller and assistant treasurer from controller. He previously served Deloitte & Touche LLP in San Francisco and joined A&B as director of internal audit in April 2005.
---
NATION / WORLD
U.S. cars improve in quality ratings
DETROIT » Consumer Reports' latest auto reliability and survey rankings find overall domination by Japanese automakers, but also strides from the Detroit Three.
For the second time in 10 years, all the magazine's overall top-10 picks are Japanese nameplates. The list released yesterday features vehicles that performed well in Consumer Reports' tests, have at least average reliability and adequate performance in crash protection tests.
Seven domestic models made the magazine's larger list of recommended vehicles, compared with four last year. Japanese models fell from 31 to 26, and European models increased from nine to 11.
The magazine found that Volkswagen leads in overall test performance, followed by Honda, BMW and Mercedes-Benz, Mazda and Nissan. But Honda, Subaru and Toyota get the highest marks when it comes to reliability.
TV Guide profit more than doubles
LOS ANGELES »
Gemstar-TV Guide International Inc.
, publisher of the weekly TV Guide magazine, said yesterday its fourth-quarter earnings more than doubled, driven by higher advertising and interactive revenue.
Net income rose to $31.8 million, or 7 cents per share, from $12.7 million, or 3 cents per share, in the year-ago period, the company said. Revenue rose 12 percent to $145 million from $129.4 million a year ago. Analysts polled by Thomson Financial expected profit of 4 cents per share on revenue of $140.7 million.
The company also licenses searchable program guide technology to cable and satellite TV companies and television makers. The company sees growth potential in developing guidance tools for emerging digital video-capable platforms, such as mobile phones.
US Airways sued by pilots union
PHILADELPHIA »
US Airways Group Inc.
, the seventh- largest U.S. airline, was sued by a union representing the carrier's pilots and those who flew for acquired America West Holdings Corp., over the status of their union contracts.
In a suit filed yesterday in Philadelphia federal court, the US Airways and America West units of the Air Line Pilots Association claimed the merger between the two airlines, to be completed this weekend, should be halted until all the pilots are working under the same contract.
US Airways and America West began combining operations in 2005. The unified carrier is based in Tempe, Arizona. The union's complaint seeks an immediate injunction barring it from eliminating America West's individual flight reservation code and merging the two carrier's reservation systems.
Icahn to buy more Motorola shares
CHICAGO »
Motorola Inc.
said yesterday that billionaire investor Carl Icahn, already a leading shareholder in the cell-phone manufacturer, has notified the company that he may buy more shares.
The announcement comes a month after Icahn made known he wants a seat on Motorola's board of directors, reportedly to increase the company's $4.4 billion debt level and return more cash to investors.
The activist Icahn has earned a reputation for pushing aggressively for corporate changes to boost slumping stock prices.
Icahn and his entities already own 33.5 million shares of Motorola, or about 1.4 percent of the company's outstanding shares. Motorola said it had received confirmation of his required filing notification that he may acquire millions more.
Sprint Nextel profits increase
KANSAS CITY, Mo. »
Sprint Nextel Corp.
, the nation's third largest wireless carrier, said yesterday that its fourth-quarter profits rose 33 percent, but the company continued to lose high-quality subscribers. The company reported earning $261 million during the period. Revenue for the quarter rose 6 percent to $10.44 billion. The company's gained in "pay-as-you-go" customers, but monthly subscribers, who tend to generate more revenue, fell by 306,000.
---
BUSINESS PULSE