Mayor sees transit rolling toward construction
With federal funding criteria met by a route choice, he looks to break ground in 2009
Mayor Mufi Hannemann said yesterday's City Council vote affirming a first rail transit route from East Kapolei to Ala Moana Center via Salt Lake means the project is right on track.
"The goal continues to be to break ground in 2009," Hannemann said.
The mayor said that he is "very confident" construction will begin in two years.
He said yesterday's Council decision is proof that the deadlines the administration set for the Honolulu High Capacity Transit Corridor Project are being met on schedule.
The mayor said he is planning to fly to Washington to meet with federal transit officials.
THE CITY COUNCIL VOTE
A look at yesterday's 5-4 vote for the rail transit route from East Kapolei to Ala Moana Center via Salt Lake:
FOR: Todd Apo, Romy Cachola, Nestor Garcia, Gary Okino and Rod Tam
AGAINST: Donovan Dela Cruz, Charles Djou, Ann Kobayashi and Barbara Marshall

The city needs to decide on an initial transit route as part of the application process to obtain funding from the Federal Transit Administration.
Hannemann's original proposal offered a 20-mile segment that went from the University of Hawaii at West Oahu in East Kapolei to Ala Moana Center via Hickam Air Force Base, Pearl Harbor and the airport.
Instead, the Council took a preliminary vote last week that supported going through Salt Lake instead of the airport because there were not enough votes to approve the mayor's first choice.
The mayor said yesterday that while he did not get what he originally wanted, he can live with the Salt Lake alignment because the route is cost-effective according to federal criteria.
At a construction price tag of $3.5 billion, it is within the amount the city can afford to build with federal funding plus revenue from the recently enacted 0.5 percent general excise tax surcharge for the city's transit project.
COUNCIL APPROVES INITIAL RAIL ROUTE
Mayor Mufi Hannemann hailed yesterday's vote for a rapid-transit line from East Kapolei, through Salt Lake and to
Ala Moana Center: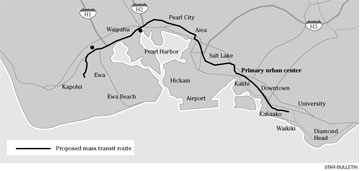 CLICK FOR LARGE
Two additional routes were suggested during yesterday's Council meeting.
One, offered by Councilman Donovan Dela Cruz, resurrected the possibility of the initial line going to the University of Hawaii at Manoa by ending at Puck's Alley, an idea UH students liked.
Dela Cruz said stopping a few blocks from the university would make the idea of going to UH-Manoa more affordable.
The second proposal, by Councilman Todd Apo, revived the mayor's original recommendation in response to dozens of people who were irate that the Council bypassed the airport.
Both proposals died, however.
"I think it's a questionable system with a major mistake because it doesn't go to UH, and a total mistake because it drops the airport," Councilman Charles Djou said after the vote.
Councilman Romy Cachola, who represents Salt Lake, said there is no sense in going to the airport if there are no immediate plans to build a spur to Waikiki to connect it to the state's top visitor destination.
"It's the best birthday present," said Cachola, who turns 69 next week.
"I feel great, I feel ecstatic. I'm on cloud nine, and I have to thank my community."