| | |
| --- | --- |
| | Newswatch |
---
McKenna's dog Hana dies at 18
Car dealer Mike McKenna's dog Hana, one of Hawaii's best-known canines thanks to her many appearances in his TV commercials, died last week at age 18. The golden retriever, also known as Hana Girl, was a fixture at McKenna's Windward car dealership. "She had a great life," said McKenna. "She'd meet the customers all day and then go home and go swimming every day in the pool." McKenna said Hana often accompanied him to charity events. "Everyone knew her, particularly kids," he said.
Ireton is appointed to oversee prisons
Gov. Linda Lingle has appointed Jean M. Ireton as deputy director of corrections for the Department of Public Safety.
Ireton will begin her new position March 7, working with Public Safety Director Iwalani White to oversee the department's corrections division. The division includes the state's four prisons and four community correctional facilities.
Ireton is currently division director of the Career Criminal Unit of the city's Department of the Prosecuting Attorney. She has served as deputy prosecuting attorney and has been a per-diem judge with the District and Family courts.
She has had her own private law firm, received a certificate of distinguished service and served on several state committees and programs. Ireton received her law degree from the William S. Richardson School of Law.
Test of warning sirens will be held Thursday
State Civil Defense officials will conduct its monthly test of the warning sirens and the Emergency Alert System at 11:45 a.m. Thursday.
The siren test is used to alert the public of any emergency that could pose a threat to life and property.
When the siren is activated in your area, residents are to turn on any radio or television for emergency information and instructions by civil defense agencies. Stations will broadcast detailed information on what the sirens mean and other related information during the monthly test.
Tests of the civil defense sirens and the Emergency Alert System are conducted simultaneously on the first working day of the month.
UH's international students get spotlight
Students from other countries at the University of Hawaii at Manoa will celebrate "A Century of Aloha" at International Night 2007.
The event is organized by the International Students Association and will showcase performances, cultural exhibits, and displays from the different countries and cultures of the students. The free event will be held March 16 from 6 to 9 p.m. at the Campus Center Ballroom.
---
SHINING STARS
---
NFL surfboard design contest winners
Ojay Tambio
of Mililani and
Eric Walden
of Honolulu won the National Football League's "Surfboards in Paradise" inaugural design contest, painting two longboards for auction to benefit local charities.
---
Kaneohe Bay Shopping Center's second annual Valentine Card Contest first-place winners include Jaida Johnson of Benjamin Parker Elementary School, age 8-and-under category; Paliku Victorino, Benjamin Parker Elementary, 8 to 12; and Richard Sensano-Price of King Intermediate School, 13 to 18.
---
Honolulu Fire Department promotions include Alan J.K. Park to fire captain; Douglas A. Bennett, Kenneth M. Han, Stephen M. Wheeler, Sean I. Iida, Todd K. Isayama, Edward I. Millerd, Frank D. Motas, Brady G. Perreira, Keola T.A. Young, Ricardo A. Zapata and Dean M. Ideue, to firefighter II; and Jennifer L. Davis to firefighter III.
---
Natasha Garcia, 12, of Manana Elementary School in Pearl City, is one of 150 children from across the nation who will represent her state in Washington, D.C., as part of a delegation of children to testify before Congress on the need for a cure for type 1 or juvenile diabetes. The Juvenile Diabetes Research Foundation is sponsoring the Children's Congress 2007 from June 17 to 20.
---
"Shining Stars" runs Mondays through Thursdays.
| | |
| --- | --- |
| | Police, Fire, Courts |
---
3 VEHICLES COLLIDE ON NIMITZ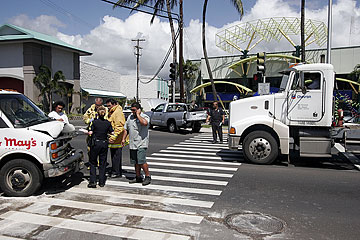 WAIKIKI
Police seek suspect in First Hawaiian heist
Police are looking for a man who robbed a Waikiki bank yesterday afternoon.
Police said the man walked into the Waikiki branch of First Hawaiian Bank at 2:22 p.m.
He passed a demand note to the teller, police said. The teller complied, and the man fled on foot with an undisclosed amount of cash, police said.
CENTRAL OAHU
Alleged rape of juvenile leads to man's arrest
Police arrested 25-year-old man for allegedly raping a juvenile.
Police said the victim reported being sexually assaulted by a friend of the family at about 4 p.m. Sunday.
Police found the suspect just outside Wahiawa less than an hour later and arrested him for investigation of first-degree sexual assault.
WEST OAHU
34-year-old arrested in assault on child
Police were seeking charges against a 34-year-old man who allegedly sexually assaulted a juvenile sometime before May 1 in Kapolei.
Police said he man was identified and arrested yesterday on suspicion of first- and third-degree sexual assault.
HONOLULU
Police say argument puts knife into door
Police arrested a 33-year-old woman who allegedly threatened her boyfriend with a knife.
Police said the two were arguing in their Salt Lake apartment at about 9:30 p.m. Friday when she scratched him on the face.
Police said the 25-year-old boyfriend retreated to the bedroom and locked the door. The girlfriend then got a knife and hit the door with it, forcing the blade through the door, police said.
The woman was later arrested for investigation of first-degree terroristic threatening and abuse of a household member.
NEIGHBOR ISLANDS
Area near Lahaina continues to burn
A brush fire above Lahaina, which burned more than a thousand acres last week, flared up Sunday and yesterday.
The first flare-up was first reported at 3:30 p.m. Sunday, a Maui spokeswoman said.
Fire helicopters made water drops until nightfall Sunday, and the fire was under control later in the evening. The fire burned about three acres.
The fire flared up again yesterday and burned about seven acres.
Division of Forestry and Wildlife personnel assisted county firefighters to bring the fire under control by midday yesterday.
County and Department of Land and Natural Resources helicopters made water drops.
Deputy Fire Chief Neal Bal was concerned yesterday that hot spots could be dangerous to all-terrain vehicles entering the burned areas.
Trees hollowed out by fires can fall, and embers can spark flare-ups, fire officials said.
Fire crews keep blaze from Molokai home
Fire blackened about 60 acres at Kaluakoi on the west end of Molokai yesterday and briefly threatened a home.
Firefighters stopped the fire from spreading onto the property, and it did not burn the home, a news release from Maui County said.
The fire was reported at 11:52 a.m. yesterday.
Two helicopters sent from Maui assisted the 13 firefighters stationed on Molokai, the news release said.