---
FAST FACTS HAWAII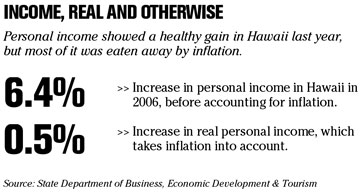 ---
HAWAII
Phishing scam claims to be bank survey
Bank of Hawaii
is warning customers about a fraudulent e-mail survey that went out yesterday.
The bogus survey landed in e-mail inboxes with the subject line "We're Listening," asking for feedback on the bank's service quality, promising a deposit to the recipient's account as well as entry in a $600 grand prize drawing.
The "phishing" fraud uses Bankoh's logo and claims to come from the bank's board of directors. But in a telltale sign of such frauds, the message instructs recipients to give their personal account and credit card information.
Bank of Hawaii said yesterday it is working to remove the fraudulent Web site -- based in China -- as soon as possible.
The bank never requests personal I.D. information from its customers via e-mail. People who have received the e-mail should not respond, the bank said.
If you mistakenly provided personal information, you should immediately contact Bank of Hawaii at 1-888-643-3888 or at icare@boh.com.
Pasha holds line on fuel surcharge
Pasha Hawaii
, which ships vehicles between Southern California and Hawaii, said yesterday it will not match the 2 percent fuel surcharge increase that will be imposed beginning March 11 by
Matson Navigation Co.
and
Horizon Lines Inc.
, the state's two largest shippers.
Last week, Matson and Horizon both said they would raise the surcharge for shipments between the mainland, Hawaii and Guam to 19.5 percent from 17.5 percent due to higher fuel costs. The rate hike followed three consecutive decreases since late last year.
However, Pasha Hawaii General Manager Reggie Maldonado said yesterday the vehicle transporter would keep its surcharge at 17.5 percent.
"We will continue to monitor the market conditions and decide as conditions happen," Maldonado said.
Hawaiian adds Seattle, Samoa flights
Hawaiian Airlines
said yesterday it is beefing up its service to Seattle and adding a third weekly flight to Pago Pago, American Samoa.
Hawaiian, which is expanding its service after adding four recently purchased Boeing 767s to its fleet, is increasing its Honolulu-Seattle frequency from 10 flights a week to 14 flights a week. The airline said yesterday it will begin the twice-daily service June 22.
The carrier also reiterated its announcement from last May that it will increase its Los Angeles-Honolulu service from 18 flights a week to 21 times a week beginning this summer. The Honolulu-Los Angeles service will be expanded from June 22 through Aug. 16.
The seasonal Honolulu-Pago Pago flight will be effective May 30 through Aug. 22.
Cyanotech gets delisting notice
Cyanotech Corp.,
which has been delayed in filing its financial statements because of a now-completed internal accounting probe, said yesterday it has received a delisting notice from Nasdaq.
The Kona-based producer of nutritional products from microalgae said it received the notice on Feb. 21 for failing to meet the deadline for filing a fiscal third-quarter earnings report with the Securities and Exchange Commission. Cyanotech said it was given until tomorrow to present its views to the Nasdaq Listing Qualifications Panel.
Cyanotech said yesterday in response to the Nasdaq notice that it expects to file its fiscal 2007 third-quarter report by March 14.
The company said it was delayed in making the filing on time as a result of work required for filing its fiscal first- and second-quarter reports, as well as its restatement of earnings for fiscal year 2006.
---
BUSINESS PULSE