---
FAST FACTS HAWAII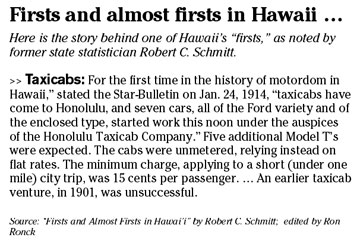 ---
NATION
Not all work time spent on business
Do you sneak a call to your doctor's office or tax accountant while on the clock? You're in good company, according to a recent survey from
OfficeTeam
, a staffing service company.
Employees estimate they spend on average 36 minutes per day, or three hours a week, attending to personal business, while their bosses estimate staffers spend 43 minutes each day on these activities.
Men admitted to spending 44 minutes each day on non-work errands, 15 minutes more than their female counterparts, who clocked in an average of 29 minutes each day.
Younger workers spend the most time on personal tasks. Employees ages 18 to 34 estimated spending 45 minutes a day on personal duties, whereas those ages 35 to 64 used 32 minutes a day. Workers 65 years old and older only wasted 17 minutes each day.
"There are only so many hours in the day to meet job requirements and personal obligations, and employers are aware that not all of the work is spent on business," said Diane Domeyer of OfficeTeam. "The best employers take steps to accommodate the need by staff for work-life balance."
OfficeTeam polled 559 office workers and 150 senior executives.
Find the gym that's right for you
Sticking to a fitness program is torture for those of us who prefer sitting it out to sit-ups. Fortunately, the February issue of Consumer Reports on Health offers advice on choosing the right gym and program to help you stay focused on your fitness goals.
» Find the right environment: Find a gym that suits your style. If you're low key, avoid hard-core gyms that cater to body builders and gym rats. Some women feel self-conscious at coed fitness centers, so an all-women gym may fit their needs.
» Get help: Don't go at a workout alone. Take advantage of the knowledgeable employees at the gym. They can help you maximize results by demonstrating proper form and customizing your workout. Make sure the person you choose understands your goals and fits within your budget!
» Stay realistic: Don't start training harder than you need to, because you will most likely burn out quicker.
» Avoid germs: Make sure that your gym provides sanitizer spray and paper towels to wipe down the equipment. Bring your own towel and use flip-flops in the showers.
Most workers like their bosses
It may seem like most employees like to complain about their bosses, but a recent study shows that more employees admire their bosses than they may like to admit.
More than half of employees said they are satisfied with the job performance of their bosses, while only 28 percent are unhappy with their supervisors. Six in 10 said they can trust their managers, whereas one in five said their managers aren't trustworthy.
Less than one quarter of employees said they could do a better job than their bosses.
Fifty-eight percent reported that their bosses make time to review employee job concerns, while only 22 percent disagreed.
However, employees would prefer more learning opportunities than they currently have in the office. Only 45 percent said their bosses help employees to develop new skills.
"Helping employees acquire new skills and assume greater responsibility is one of the most effective ways managers can promote loyalty, increase employee performance and build future leaders," said Max Messmer, chairman and CEO of Robert Half International.
CareerBuilder.com and Robert Half International conducted the survey and polled more than 3,000 workers online.
---
BUSINESS PULSE