Accident shatters families with grief
Two women, 18, die in a head-on crash on Kapaa Quarry Road
The families of two Kamehameha Schools graduates were grappling with grief after the young women were killed late Thursday night in a head-on collision that also injured five other people.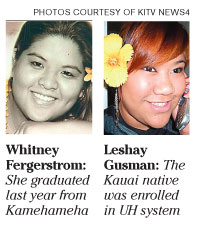 Whitney A.M. Fergerstrom and Leshay K.M. Gusman, both 18, were identified as the two fatalities, according to police.
Fergerstrom's family is stricken with grief, said her aunt Valerie Fergerstrom from the Big Island. The parents, Rocket and Melanie Fergerstrom, were on Oahu yesterday.
"She was a wonderful, wonderful girl. That's why we're all totally devastated," Valerie Fergerstrom said. "I don't know what to say except that we're all going to miss her."
The two women were 2006 graduates of Kamehameha Schools. Fergerstrom was from the Big Island, while Gusman was from Kapaa, Kauai. They both lived on Oahu and were currently enrolled in the University of Hawaii system, officials said.
Fergerstrom was driving a gold 2006 Suzuki sport utility vehicle, traveling toward the city's solid-waste transfer station on Kapaa Quarry Road, about a mile north of Kalanianaole Highway, according to police. The Suzuki crossed the center line at about 10:29 p.m. and crashed into a silver 2006 Nissan pickup truck.
Both Fergerstrom and Gusman were ejected from the vehicle. Three other females in the SUV were hospitalized; a 19-year-old was in serious condition, and an 18-year-old woman and a 15-year-old girl were listed as critical.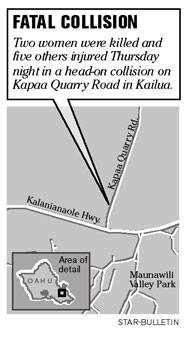 Two men in the pickup, ages 28 and 35, were hospitalized in serious condition.
Police said that Fergerstrom might have been speeding but that they are still investigating.
Police closed Kapaa Quarry Road until about 4:30 a.m. yesterday while they investigated.
The accident occurred on a poorly lit section at a point where the roadway dips near the waste transfer station.
Officers said that young drivers sometimes treat the road as if it is a roller-coaster ride.
The two women are the 12th and 13th traffic fatalities on Oahu so far this year, compared with nine at this same time last year, according to Honolulu police.
Pieces of both vehicles still laid strewn about yesterday afternoon, including the SUV's front bumper.
Valerie Fergerstrom said her niece graduated from Kamehameha Schools on the Big Island before attending UH-Manoa.
The Fergerstrom family is big but close, something that rubbed off onto her niece, she said.
"She's always there to help and she's very family-oriented," Valerie Fergerstrom said. "She was a really good teenager, not like some others, you know what I mean? She had goals to finish school."
---
The Associated Press contributed to this report.