Reichel deserves kudos for striking gold
CONGRATS TO
Keali'i Reichel
, who received his first gold record last week more than a decade after releasing the album responsible for the certification.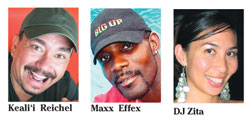 Reichel's debut, "Kawaipunahele," was initially released in 1994. To be recognized as having achieved gold record status, the Recording Industry Association of America must certify that it has sold more than 500,000 copies at retail.
Last Friday, KPOA-FM program director Alakai'i Paleka presented the singer with a commemorative plaque during Reichel's "Kukahi 2007" concert at the Maui Arts and Cultural Center. He joins the distinguished company of Don Ho and Israel Kamakawiwo'ole as the only Hawaii recording artists to reach gold status ...
LOCAL BAND Black Square celebrates the release of a new album, "One Glass of Water," with a trio of concerts around Oahu.
The fun starts in the country, with the band joined by Golfcart Rebellion at Kainoa's on Friday night. That show is for the big kids (21-plus) only, but those not old enough to drink have two other chances to take part in the CD-release festivities.
On Saturday, head to Sound|House (upstairs at the former location of Detox) for an 18-and-over gig with Dolls Till Daylight and the Ex-Superheroes signed on as opening acts. And on Sunday, get down to Anna Bannana's for an all-ages concert with Smitz and Golfcart Rebellion starting things off at 6 p.m. ...
IF YOU just have to get your skank on this weekend, give the two-night "Reggae Music Jamboree" a try.
One Stop, Slydah Surf and Buck Rodgers Intertainment present the President's Day weekend concert series, kicking off Friday at Aloha Tower Marketplace's Bikini Cantina with Maxx Effex, Buckz Boyz, Onward and Lambs Book. Windward residents will also get a taste of the action when Boardriders hosts the second show on Saturday.
Both nights of the "Reggae Music Jamboree" are 21-and-over, with a $10 cover charge in effect ...
FORMER HONOLULU resident DJ Zita makes another trip back to the islands this weekend, joining forces with her Sisters in Sound family at Lotus Soundbar in Waikiki.
Zita will join DJs Chia, Toki and Ms. Angel on the decks; special guest DJs Seeko, Monkey, K-Ing and Dmadness will also take part. Fellow SIS member DJ Marloca, who lives in Chicago, is the only one unable to attend the party.
Doors open at 9 p.m. Saturday for this Chinese New Year celebration, with VIP table and bottle service also available for you high rollers. Call 924-1688 for reservations ...
MORE PICKS: Drum-N-Bass fans won't want to miss Infiltrata at Indigo on Friday ... Also on Friday, Jen-Jen Productions presents "The Butterfly Effect," with a live performance by I.A. and a lingerie fashion show with models from Nex2Bare ... The 808 Scene Zine returns to Don Ho's on Saturday for another installment of "The Dock Sessions." Stoic and Hometown Heroes headline this month; doors open at 9:30 p.m. ... Local radio station 102.7 Da Bomb kicks off a new weekly, "Erotic City," at Fashion 45 on Saturday ... And i3 Entertainment teams with Island Rhythm 98.5 to present "Midnight Session 2" at Pipeline Cafe. Natural Vibrations, Inoa'ole, Hot Rain and Sashamon will perform live; Makani and Big Teeze will share hosting duties ...