---
FAST FACTS HAWAII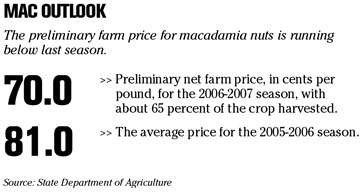 ---
HAWAII
HEI maintains dividend again
Hawaiian Electric Industries Inc.
kept its dividend the same for the 37th consecutive quarter when it announced yesterday that its board of directors voted to keep the payout at 31 cents a share.
The dividend will be payable March 13 to stockholders of record at the close of business on Feb. 26. The ex-dividend date is Thursday , meaning that will be the first day the stock will be traded without the shareholder being entitled to the upcoming payment.
The dividend is yielding an annualized return of 4.6 percent, the highest of any company based in Hawaii. The last time HEI raised its dividend was in March 1998 when it boosted the dividend a split-adjusted half-penny to 31 cents from 30.5 cents.
NATION / WORLD
InBev, Anheuser-Busch rise on merger report
ST. LOUIS » Shares in brewers I
nBev SA
and
Anheuser-Busch
rose yesterday on a Brazilian newspaper report about talks to unite the world's largest beermakers.
Belgium-based InBev declined to comment on the report in Sao Paulo business daily Valor Economico that InBev had held preliminary merger talks with its U.S.-based rival. The newspaper cited an unidentified source which it said was close to leading Brazilian investors.
Anheuser-Busch also declined to comment.
Industry watchers said a business combination would make long-term strategic sense.
A research report by UBS Investment Research noted that the deal would give InBev greater marketing and distribution power in the United States, while offering Anheuser-Busch a strong global distribution network.
Ex-Monster exec admits to fraud
NEW YORK » A former top executive of the company that runs the
Monster
job search Web site admitted in court yesterday that he illegally backdated millions of dollars in employee stock option grants -- a practice that cheats shareholders.
Myron Olesnyckyj, 45, of New Providence, N.J., pleaded to securities fraud and conspiracy to commit securities fraud, charges that carry potential penalties of up to 25 years in prison and fines of more than $5.2 million. He promised to cooperate, which can earn him leniency.
Olesnyckyj, a former Monster senior vice president, agreed to forfeit $381,000, which he said represents the amount he illegally gained. The scheme lasted from 1996 to 2006; he was accused of participating from 1996 to 2003.
Monster went public in 1996. After that, Olesnyckyj said, he and others agreed to backdate annual companywide stock option grants, choosing the dates of the grants after looking at the historical records of the company's stock price movements.
Rates on 30-year mortgages rise
WASHINGTON » Rates on 30-year mortgages rose slightly this week, reversing last week's brief decline.
Mortgage giant Freddie Mac reported yesterday that 30-year, fixed-rate mortgages averaged 6.30 percent this week, up from 6.28 percent last week.
Rates on 15-year, fixed-rate mortgages, a popular choice for refinancing, edged up to 6.03 percent, compared to 6.02 percent last week. Five-year adjustable rate mortgages rose to 6.01 percent, up from 5.99 percent last week. One-year ARMs rose to 5.52 percent, up from 5.49 percent last week.
A year ago, rates on 30-year mortgages stood at 6.28 percent while 15-year mortgages were at 5.91 percent, five-year adjustable rate mortgages averaged 5.95 percent and one-year ARMs were at 5.36 percent.
---
BUSINESS PULSE