Hawaii Marine unit loses 2 more in Iraq
A sailor, 22, and a Marine, 34, are killed in Al Anbar province
A Marine and a sailor with ties to Hawaii were killed Thursday while conducting combat operations in Al Anbar province, Iraq, the U.S. Department of Defense announced yesterday.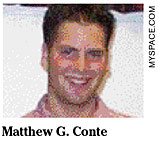 They were identified as Marine Gunnery Sgt. Terry Elliott and Hospitalman Matthew G. Conte, both assigned to the 2nd Battalion, 3rd Marine Regiment, at Kaneohe Bay.
Elliott, 34, had served a seven-month tour in Afghanistan and had been home for less than a year when he shipped out for Iraq in September.
He had deployed with the same unit to Afghanistan in May 2005. The 2nd Battalion lost four Marines during the Afghan campaign.
Elliott joined the Marine Corps June 1992 and reported to Hawaii in July 2004.
His awards include the Purple Heart, three Navy and Marine Corps Achievement Medals, the Joint Meritorious Unit Award, the Navy Meritorious Unit Commendation, four Good Conduct Medals, two National Defense Service Medals, the Afghanistan Campaign Medal, the Iraq Campaign Medal, the Global War on Terrorism Service Medal, the Armed Forces Service Medal, the Humanitarian Service Medal, four Sea Service Deployment Medals, the Marine Corps Recruiting Ribbon, the United Nations Medal and the North American Treaty Organization Medal.
Conte was serving as a hospital corpsman under the command of I Marine Expeditionary Force (Forward).
"He loved his job, as a hospital corpsman. Matt planned on working in a hospital when he got out."
On a Myspace.com page dedicated to Matthew Conte
A Myspace.com Web page dedicated to the 22-year-old noted his hometown as Streetsboro, Ohio. A message on the Web site described the circumstances of his death, saying he was killed when a roadside bomb struck an armored vehicle he was riding.
"He loved his job, as a hospital corpsman," the description of Conte said. "Matt planned on working in a hospital when he got out. Matt always said 'Friends are very important to me. And I love to party.'"
Several posts illustrated the shortness of Conte's life and his impact on others.
"Conte, I can't believe you're gone; even with your death you helped us save two Marines' lives with the knowledge you passed to us. I'll never forget you man," wrote a person named Ray.
Another post said, "I can't believe your gone Conte. Seems like just yesterday you were putting the Spiderman Band-Aid on my eyebrow. ... Keep watch over us and I look forward to seeing you soon ... but not too soon."
"I wanna be a fly girl," wrote another friend, "to the one who always accepted me for who I was and was always telling me that I was capable of so much more ... to the one who had the patience to teach me how to properly skip rocks at the lake, how to lace my Etnies the right way, and trying to teach me how to shoot pool."
Elliott and Conte are the 129th and 130th people with Hawaii ties to die in Iraq.