---
FAST FACTS HAWAII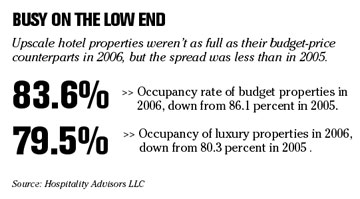 ---
NATION


Regulators shut down first bank since 2004

WASHINGTON » Bank regulators have closed

Metropolitan Savings Bank of Pittsburgh

and approved the takeover of its insured deposits by another Pittsburgh bank, the Federal Deposit Insurance Corp. said yesterday.

The closing of Metropolitan Savings, a bank with just one office and some $15.8 million in assets as of last September, marked the first failure of a federally insured financial institution since June 2004. It was closed by the Pennsylvania Department of Banking and the FDIC was named receiver.

The bank's office will reopen on Monday as a branch of Allegheny Valley Bank of Pittsburgh, which will assume Metropolitan's $12 million in insured deposits.

The previous such failure, in June 2004, was that of the Bank of Ephraim in Utah. There have been no major U.S. bank failures since the collapse of Superior Bank, a $1.8 billion savings and loan in the Chicago area, in July 2001.
iTunes users told to wait on Vista
SAN JOSE, Calif. »
Apple Inc.
is urging some iPod and iTunes users to hold off on upgrading computers to Windows Vista, warning that the iTunes music software may not work well with the new operating system from
Microsoft Corp.
Apple said iTunes may work with many Vista computers, but the company knows of some compatibility problems and recommends that users wait until it resolves the issues with an iTunes update in the next few weeks, the company said yesterday. The iTunes software is key to synching music on computers with iPod portable players.
Microsoft launched Vista, its first major overhaul of Windows in five years, on Tuesday.
Though Microsoft and Apple are partners in some cases -- iTunes works with Windows PCs and Microsoft Office has a version for Macs -- the two are also entrenched rivals. With Vista's launch, Apple ramped up its ad campaign attacks against Windows.
Hewlett-Packard to go NYSE-only
NEW YORK »
Hewlett-Packard Co.
, one of a batch of New York Stock Exchange-listed companies that three years ago were persuaded to try a "dual listing" on the Nasdaq Stock Market, has decided to abandon the program and leave Nasdaq.
The company said it would remain listed on the NYSE, where its shares have traded since 1961. The company said it was withdrawing from Nasdaq because of exchange-listing fees and the administrative burden.
The loss of HP represents a blow to Nasdaq's dual-listing program, which kicked off in 2004 with six companies, including HP. Two of the original six companies -- Cadence Design Systems Inc. and Charles Schwab Corp. -- did leave the NYSE for Nasdaq. Another, Countrywide Financial Corp., quit the Nasdaq program and stayed at the Big Board.
WORLD


British Airways profit falls 14%

LONDON »

British Airways PLC

reported a 14 percent drop in quarterly earnings yesterday on the back of increased fuel charges, fog-related delays and the cost of heightened security requirements at London's Heathrow Airport.

BA also downgraded its full-year revenue growth forecast to between 3.3 percent and 3.8 percent, from the previous outlook for 4.5 percent to 5 percent, after a labor dispute with cabin crew led to a narrowly averted strike earlier this week. BA said the near-strike was still likely to cost the carrier $157.3 million in lost revenues because a deal with the union came after it already announced flight cancellations, offering passengers refunds, later flights and transfers to other airlines.

Net profits for the three months to Dec. 31 were down to $210 million. Revenue rose 0.5 percent to $4.1 billion.




---
BUSINESS PULSE