---
FAST FACTS HAWAII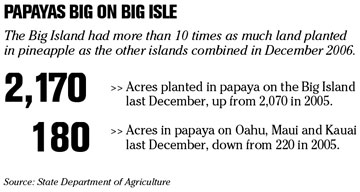 ---
NATION / WORLD
Google's earnings tripled in quarter
SAN FRANCISCO »
Google Inc.
's fourth-quarter profit nearly tripled as the online search engine leader once again sprinted past analyst expectations, but the breathtaking growth still wasn't enough to propel its high-flying stock to new heights.
The Mountain View-based company said yesterday it earned $1.03 billion, or $3.29 per share, during the final three months of 2006. That compared with net income of $372.2 million, or $1.22 per share, at the same time in 2005.
After stripping out gains from tax benefits that were partially offset by expenses for employee stock compensation, Google said it would have earned $3.18 per share. That figure easily exceeded the average analyst estimate of $2.92 per share among analysts surveyed by Thomson Financial.
Judge cuts award in Katrina case
GULFPORT, Miss. » A federal judge yesterday reduced by more than half a jury's award of $2.5 million in punitive damages against
State Farm Fire and Casualty Co.
for denying a Mississippi couple's claim after Hurricane Katrina.
U.S. District Judge L.T. Senter Jr. reduced the award to $1 million even though the judge said State Farm acted in a "grossly negligent way" by denying the claim.
The claim had been filed by policyholders Norman and Genevieve Broussard, whose Biloxi home was destroyed by the August 2005 storm.
Earlier this month, Senter presided over the first jury trial for the hundreds of lawsuits that Mississippi homeowners have filed against insurers for refusing to cover damage from Katrina's storm surge.
On Jan. 11, the judge took part of the case out of jurors' hands and ruled that State Farm is liable for $223,292 in damage to the Broussards' home. But he allowed jurors to decide whether to award punitive damages.
Nevada to look at Macau venture
CARSON CITY, Nev. » Nevada gambling regulators are drawing closer to a public hearing on
MGM Mirage
's casino venture in Macau with businesswoman Pansy Ho, daughter of Hong Kong billionaire Stanley Ho -- but may drop tentative plans for a late-February session.
While the state Gaming Control Board had discussed holding the special meeting at the end of February in Las Vegas, following its regular Feb. 7 meeting in Carson City, the Associated Press learned that new information provided to regulators may result in a delay.
MGM Mirage is building the $1 billion MGM Grand Macau in Macau, and the company filed an application last year with the Control Board to find Pansy Ho suitable as a joint venture partner.
Cracked tooth ruled work-related
STOCKHOLM, Sweden » A salesman who chipped a tooth on a cookie while visiting a customer is entitled to compensation for his dental work after a court ruled it a work-related injury.
The Swedish Supreme Administrative Court ruled in favor of a claim by Calle Montell for state compensation, saying the injury was work-related because it occurred while he was on the job.
The Jan. 18 ruling ended a legal battle that began on Oct. 31, 2002, when Montell bit into a cookie offered by a customer and cracked his tooth on a cherry pit.
The local social insurance office denied him state compensation for the $570 it cost to repair the damage, rejecting his claim that the injury was work-related. Two courts dealt with the case before the Supreme Administrative Court issued its ruling.
---
BUSINESS PULSE