Musical milestones
Travelers 3's Peter Apo walks down memory lane with "Hootenanny" DVD
PETER APO is intently watching some black-and-white television footage from 1963, and it's blowing his mind.
"This is such a trip!" he says, as his old folk trio, Travelers 3, rises from the murky past in footage unseen for three-plus decades.
"The Best of 'Hootenanny,'" a DVD box set, takes kinescopes made from a TV monitor to capture the spirit of that nationally televised music show. It is a treasure trove of what fresh-faced college kids were listening to in that promising decade known as the '60s.
Among such popular, clean-cut acts of the day as the Chad Mitchell Trio, the Rooftop Singers and the New Christy Minstrels were the Travelers 3, made up of Apo, fellow local boy Charlie Oyama and Oregonian Dick Shirley.
Apo smiles as he watches his younger self and his mates singing heartily in close harmony on such folk standards as "Shine on Me," "Cottonfields," "Bowling Green" and "Good Morning Captain."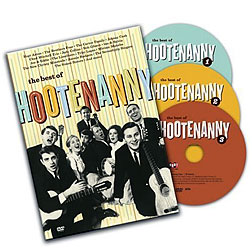 "The Best of Hootenanny,"
(Shout! Factory, $44.98)
A LOT has happened to Apo since those heady days. He's now director of culture and education for the Native Hawaiian Hospitality Association, part of the Pacific Resources for Education and Learning office downtown. When he first returned to the islands in 1975, after living and working In Los Angeles, Apo embarked on a lengthy career in public service, highlighted by terms as an Office of Hawaiian Affairs trustee and a state legislator.
Not to forget the music. In November he released "My Back Pages: The Folk Years" on his own Mamo Records label, a collection of his favorite '60s folk and pop covers (plus one Eagles tune). It's the first of a planned series.
As for Apo's former travelers, he keeps in touch with Oyama, who is enjoying retirement in Glendale, Calif., and Shirley is back in Oregon.
It was in the Emerald State that Travelers 3 was born. Apo and Oyama were playing Hawaiian music when they met the folk-loving Shirley while they were all students at the University of Oregon.
"When we switched to folk," Apo said, "Charlie had to learn banjo ... by listening to a Pete Seeger record over and over again. It helped that he had a slack-key guitar background."
THE APPEARANCE on "Hootenanny" in '63 was the band's big break. It came at the same time that they were promoting a debut album on the prestigious Elektra record label, touring folk clubs coast to coast.
"There were like 50 working folk bands during that time," he said, "and we all made our livelihood mainly in those clubs. Folk clubs then were usually venues that served beer and wine, sometimes with sawdust on the floors. But they usually had good lighting and good sound, and it was kind of like cabaret theater."
Apo also remembers the Travelers 3 "playing a lot of small colleges in the Pacific Northwest, the Midwest and New England."
If the track list from their first album is any indication, the trio kept to upbeat and familiar standards, and throwing in the occasional rousing Tahitian number sung by Apo, songs like "Tamure" and "Marcella Wahine."
THE INCLUSION of those numbers can be credited to time spent in the islands developing their act. In 1961 and '62, the hot spot was the Shell Bar in Henry Kaiser's Hilton Hawaiian Village hotel. "After we auditioned personally for Kaiser and the then-entertainment director, singer Alfred Apaka, we were signed to a one-year contract." (The last six months, they shared the bill with Arthur Lyman, who was popularizing the "exotica" sound with his own band.)
"At the time, there was only the Rainbow Tower and cottages, one of which doubled as our dressing room, located near the back of the bar. I remember bringing our families over from the mainland to stay with us over the weekends."
Then came the move to Los Angeles, where they roomed together on Sunset Boulevard a half-mile from the city's top folk club, the Troubadour. And after an impressive set during an open-mike night, the Travelers 3 earned a repeat gig at the noteworthy club.
"It was the crossroads for folk music there. People like Hoyt Axton, Judy Collins, the Byrds and the Buffalo Springfield would play and hang out there. It was there that we hooked up with our manager, Leonard Grant."
With Grant's help, Apo said, the band graduated from the college tour circuit and "Hootenanny" to play Las Vegas showrooms and big-city supper clubs. "I remember playing places like New York's Blue Angel, where we auditioned with people like Peter, Paul & Mary ... and an up-and-comer at the time named Barbra Streisand."
EVENTUALLY, the gentle strains of folk transformed into electric rock, as bands followed the lead of Bob Dylan. The transition would also affect the Travelers 3, with standup bassist Shirley leaving around 1965. Apo and Oyama switched to electric guitars and picked up a rhythm section.
After one album for Capitol Records, the Travelers disbanded by the end of the decade. Apo would stay in the music industry, as road manager for acts such as Helen Reddy, the Carpenters and Neil Diamond.
"I did that for a long time, and I admit the biz took a toll on my personal life." He left his first wife and four kids in Oregon, and by '74, "I was burned out from the life-in-the-fast-lane life."
So it was back to Hawaii, at first for a two-week vacation. "But then I realized that I should stay here, my real home, so I literally left everything behind in Los Angeles. Now, here I am in my early 30s, staying with my folks in Makaha. As for the music, I did it, and 'nuff already."
His first job at home was back at the Hilton Hawaiian Village, managing the Makahiki Room. He was also spurred into community involvement by the burgeoning native Hawaiian movement -- first winning a seat on the Waianae Neighborhood Board, then teaching at Waianae High School.
MUSIC WOULD finally return to Apo's life in '85, when he picked up a guitar to join Saturday evening canoe club jam sessions. He began writing songs, starting with the nationalist "Rise Up and Follow Me." Then a partnership with Del Beazley for what was supposed to be a one-off recording turned into the first project for his own record label.
His Mamo catalog now includes seven albums, including the sovereignty collection "Hawaiian Nation" and Beazley's "One for Akua," a Na Hoku Hanohano award winner for best religious CD in 1990.
The label's latest release, Apo's "My Back Pages," includes a scattering of Dylan songs, his version of the Youngbloods' "Get Together," a touch of steel guitar on the Beatles' "Here, There and Everywhere," a nice rendition of Tim Hardin's classic "Reason to Believe" and a solid "Wayfaring Stranger," featuring local fiddler Lisa Gomes.
"But before we get to Volume 2, I'll be releasing something called ''Aina,' a fairly folk album with new topical songs of mine that I hope will get an April release," he said.
"The music has re-energized me. It's transformed me to do more and more music. I want to spend the balance of my life on it, and I'm in a fortunate position now where it's not about the money, but the art form."