Offbeat measures bend ears of isle lawmakers
One bill touts a tax credit for organ donation
Whether you are an advocate for a state holiday promoting peace or you support the establishment of "hunting tourism" in Hawaii, chances are there is a bill that suits your fancy in the state Legislature.
Each year, mixed amid the budget requests, capital improvement projects, education proposals and other standard issues are a handful of unconventional bills.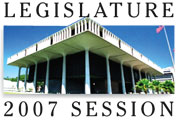 Regardless of whether they seem meaningful or mundane, functional or frivolous, there is no shortage of suggestions, and none are ever dismissed out of hand by lawmakers.
"Every bill is an idea from somebody," said Sen. David Ige (D, Aiea-Pearl City).
Lawmakers have introduced 3,962 bills this year -- 1,995 in the Senate, 1,967 in the House.
Most proposals will never even get a hearing, but that does not stop them from being introduced.
"I think the Legislature is the place for a public forum," said Rep. Blake Oshiro (D, Aiea-Halawa). "This is the place that is the peoples' direct access to government, to see policies that they want enacted or changed, and that's what we're here for."
Some proposals are familiar, such as the one in Senate Bill 109 to create a general excise tax holiday on certain goods and services.
Another bill would establish not a holiday, but "Peace Day." House Bill 345 proposes to set aside Sept. 21 each year as a day "to promote peace programs, improve international relations and increase educational awareness of peace." It was introduced by House Vice Speaker Jon Riki Karamatsu (D, Waipahu-Waikele) and co-signed by nine other members of the House.
Uncommon Proposals
Some of the more unconventional bills introduced in the House and Senate this year:

» Senate Bill 967: Provides a tax deduction for individuals who donate organs.

» SB 1274: Provides an income tax credit for taxpayers who purchase a seven-day cache of food to prepare for emergencies such as hurricanes, tsunamis and earthquakes.

» SB 1299: Requires all telecommunications towers, including cellular antennas and wireless communication antennas, located on state conservation land to be camouflaged to the surrounding environment.

» House Bill 243: Exempts tattoo artists licensed to practice the ancient art of Hawaiian tattooing from Department of Health rules and provides for licensing and regulation of Hawaiian tattoo artists by a Board of Hawaiian Tattoo Artists within DOH.

» HB 274: For a fee of $50, provides for a three-day hunting license on a private or commercial shooting preserve with a licensed guide.

» HB 659: Establishes the taro plant as the state plant.

Source: Hawaii State Legislature
Other measures are more unique, such as one introduced by Ige that would provide a tax credit of up to $10,000 for those who donate organs.
Under the terms of SB 967, a donor would be able to claim the credit to cover travel expenses, lodging and any lost wages related to donating all or part of a liver, pancreas, kidney, intestine, lung or bone marrow.
"There are good Samaritans -- you might even call them heroes -- that really do choose to participate in organ donation," said Ige. "We're just looking at ways we can encourage organ donations by at least providing some mechanism so if they do have out-of-pocket costs, they can get that recovered.
"We'll see what happens with this."
Another bill looks to tap into an "underdeveloped" aspect of tourism.
A proposal in HB 274 looks to establish hunting tourism in Hawaii. For a $50 fee, visitors could secure a license to hunt on a private or commercial shooting preserve with a licensed guide.
The bill states that promoting such tourism, "permits diversification of Hawaii's agricultural resources, creates multi-use habitats, protects native species, boosts local economies and curbs the poaching of game animals." The bill was introduced by Rep. Bob Herkes (D, Volcano-Kainaliu).
Other bills are similar to previous measures.
Whereas a bill last year designated the humuhumunukunukuapuaa as the state fish, HB 659 this year aims to establish taro as the state plant.
Most lawmakers say the diversity of bills is a good thing.
"This is a marketplace of ideas," said House Minority Leader Lynn Finnegan (R, Mapunapuna-Foster Village). "The limitation of bills, I think, would not be a good example of how our government should run."
Added Ige, "We do our best to try and air any and all ideas. Generally, democracy works in the sense that the best ideas percolate to the top and move forward."