BOOKSHELF
Local writer finds success with romance novel
Within the first 60 pages of "The Love Remains," our heroine, the young and lovely Kale, has fled one husband, married another, gotten pregnant, become a chief, endeared herself to her people and solved their taxation problem.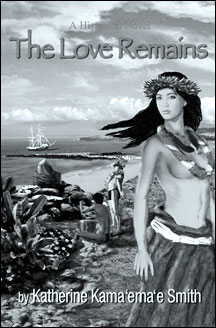 "The Love Remains"
By Katherine Kama'ema'e Smith

(Honu Publications)

263 pages, $17.95
Within the next few chapters, Kamehameha the Great dies, his successor abolishes the kapu and the Christians are coming.
Get the feeling this book covers a lot of ground?
Katherine Smith first published her historical romance as a print-on-demand book available only on her home island of Maui. It's now in wider release; Smith will be on Oahu for book signings next weekend.
"The Love Remains" is fiction, but based on the real-life Kale Davis, whose name appears as the original owner on land documents involving the Kapalua area of West Maui -- called Honokahua in Kale's lifetime, the 1800s.
The story follows her through four marriages, the birth of many children and the changing face of her family land and the community she oversees.
If the "sweeping narrative" is your preferred literary genre, this book has much to offer. The heritage of the Kamehamehas and the whole historic drama of those years is accounted for in the background of Kale's tale, and the dialogue is brightened with passages in Hawaiian. The best parts are Smith's accounts of everyday life in a Hawaiian village.
On the downside: With the exception of one evil man, the characters are all righteous and beloved, which gets sappy. And the language, well, speaking of sappy: "My thoughts are speeding as fast as my heart beats for you," Kale says at one point.
Did people really talk like that back then? We'll have to take Smith's word for it.
---
The author will sign her book at 11:30 a.m. Friday at Borders Express Windward Mall, noon Saturday at Borders Waikele and 1 p.m. next Sunday at Borders Pearlridge.
"The Love Remains"
is available at local bookstores and online retailers. Visit
www.theloveremains.com
.