---
FAST FACTS HAWAII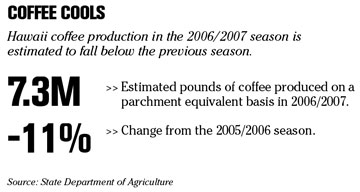 ---
[HAWAII INC.]
OFFICERS AND DIRECTORS
» Hawaii Employers Council has appointed
Robert Cundiff
as chairman of the Hawaii Employers Council Board of Governors for 2007.
Also appointed to the executive board are Patrick Ching, Robert Dove, Glenn Hong, Kyoko Kimura, and Edward S. Van Lier Ribbink.
» Honolulu Board of Realtors has announced its officers and directors for 2007: Berton K. Hamamoto, president; Dana C. Chandler, president-elect; Liz Moore, secretary; and Mary K. Flood, immediate past president. Directors: Sandra "Sam" Bangerter, Brian C. Benton, Scott T. Fujiwara, M. Russell Goode Jr., Nancy D. Metcalf, Joyce R. Nakamura, Russell K. Nishimoto, John Riggins, and Wendell M.Y. Wong. HBR regional directors: Riley Hakoda, Central regional director; Cherie L. Tsukamoto, East Oahu regional director; Terry J. Lovvorn, Leeward regional director; and Mary M. Beddow, Windward/North Shore regional director.
» The Waikiki Yacht Club has installed its officers and directors for 2007: Mark Hazlett, commodore; Michael Roth, vice commodore; Jeff Lansdown, rear commodore for sail; John Wheeler, rear commodore for power; Ivan Chan Wa, immediate past commodore; Charlayne Holliday, secretary; Jim Ewing, treasurer; and directors David Banks, Peter Lewis and Mel Sugihara.
AWARDS
» Alexander & Baldwin Foundation has granted $25,000 to the John B. Kelley Endowment of the Hawaii Bicycling League. The endowment honors the late A&B vice president of investor relations, and provides for the league's long-term security to support cycling in Hawaii.
» Oceanit engineers Jeremy Michelson and Jay Stone have been certified as professionals in erosion and sediment control. They are the only two people on Oahu to be so certified, and are only the third and fourth in the state. CPESC certification is sponsored by the Soil and Water Conservation Society and the International Erosion Control Association.
---
NATION / WORLD
Atlantic City casinos may wall off smokers
ATLANTIC CITY, N.J. » Casinos here are a breath away from partitioning their floors into smoking and nonsmoking areas, after a compromise of an earlier proposal to snuff cigarettes passed an initial vote yesterday.
If the plan passes the City Council, a quarter of each casino's gaming floor would be designated smoking areas. The final vote is expected in two weeks.
The original plan to completely ban smoking in casinos would have made New Jersey the nation's largest gambling destination to do so.
The council came up with the compromise after furious opposition to the ban from the casino industry, which feared the loss of 20 percent of its revenue and 3,400 jobs.
Cingular profit nearly quadruples
SAN ANTONIO » Cingular Wireless LLC, the nation's largest cell phone provider, said yesterday its fourth-quarter profit nearly quadrupled, boosted by customer growth during the holidays.
Cingular said it earned $782 million during the fourth quarter, compared with $204 million in the same quarter of 2005. The company reported revenue of $9.8 billion, up 10 percent from $8.8 billion in the year-ago period.
The company, rebranded under the AT&T Inc. name last week, was a joint venture of Atlanta-based BellSouth Corp. and AT&T before AT&T completed its purchase of BellSouth last month.
The wireless unit's growth in the fourth quarter was driven in part by a net increase of 2.4 million customers during the holiday quarter, typically the heaviest selling season for cell phones. Cingular has more than 60 million customers.
EBay earnings beat expectations
SAN FRANCISCO »
EBay Inc.
reported yesterday that fourth-quarter profit increased 24 percent from the same period last year, trouncing Wall Street estimates and prompting executives to raise guidance for the current quarter.
Thanks to scorching holiday sales -- particularly in the United States, the United Kingdom and Germany -- the San Jose-based online auction company earned $349 million, or 25 cents per share, for the three months ended Dec. 31. It earned $279 million, or 20 cents per share in the year-ago period.
Fourth-quarter revenue totaled $1.72 billion, up 29 percent from $1.33 billion in the year-ago period.
China's economy grew 10.7%
BEIJING » China's economy grew by 10.7 percent last year and faces strains from a soaring trade surplus and excessive investment, the government said today, leaving open the possibility of more interest rate hikes or economic controls.
The annual growth figure was China's highest since the 10.9 percent rate reported in 1995 and exceeded forecasts by both Chinese and foreign economists.
This year, the economy is expected to continue "steady and comparatively fast development," the commissioner of the National Bureau of Statistics, Xie Fuzhan, said at a news conference.
Investment in real estate and other fixed assets grew by 24 percent, the agency said. The government has been trying to hold down investment growth, warning that excessive spending could spark inflation or lead to a debt crisis.
---
BUSINESS PULSE