Inside Mo's big guns
One of the ship's turrets will be open to the public starting Saturday
For a year, it was a treat that few people touring the USS Missouri knew was available: a peek into the workings of a massive gun turret that houses one of the battleship's nine 16-inch cannons.
Welcome Aboard
The Battleship Missouri Memorial:

Days open: Daily including weekends from 9 a.m. to 5 p.m.

Access: Parking and tickets are available at the USS Bowfin Submarine parking lot.

Tickets: General admission is $16 for adults and $8 for children (4-12 years old). Kamaaina and military rates are $10 for adults and $5 for children.

Guided tours: Chief's Guided Tour is $7 additional; Explorer's Tour is $29 additional.

Turret 1: Open to the public beginning Saturday
"You had to ask to be taken inside the gun turret," said Paul Dyson, vice president of the Battleship Missouri Memorial at Ford Island.
However, Gun Turret 1, which is most forward on the battleship, will be opened on Saturday to the public. Visitors just have to ask a tour guide for access because of safety precautions.
Dyson said renovation work on Turret 1 began in 1999, when the public was first allowed to tour the Missouri. The work was completed last January and cost more than $6 million, Dyson said.
By Feb. 1, Dyson said, the Missouri is expected to see its 3 millionth visitor. Dyson said the Missouri averages 400,000 visitors a year.
Three gun turrets grace the deck of the battleship where Japan surrendered on Sept. 2, 1945, in Tokyo Bay to end World War II. Each of the turrets house three cannons and can rotate 300 degrees.
Each of the nine 16-inch cannons on the Missouri could fire two 2,700-pound projectiles per minute.
It took six bags containing 110 pounds each of nitrocellulose powder to fire one projectile, which could travel 25 miles and penetrate 16 inches of armor or 32 feet of reinforced concrete.
The barrels of the cannons are 65 feet long; each weighs 116 tons. A crew of 90 sailors manned each turret. Thirty sailors worked in the upper turret room, but the operations went as far down as four decks into the battleship, where the powder bags and projectiles were stored separately.
"It was an amazing operation to see," Dyson added.
---
---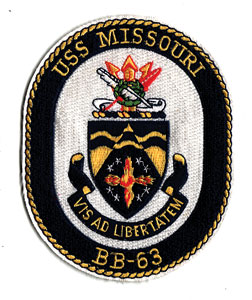 THE MIGHTY MO
The USS Missouri, one of four Iowa-class battleships built during World War II, was launched on Jan. 29, 1944

Dimensions: 887 feet long and 108 feet wide, making it 5 feet longer and 18 feet wider than the RMS Titanic

Speed: In excess of 30 knots (35 mph)
About the Shell
The Mark 7 gun fires two basic rounds, a 2,700-pound AP (armor-piercing) shell and the 1,900-pound HC (high-capacity) shell:

The armor-piercing shell could penetrate concrete up to 30 feet thick.

The high-capacity shell could create a crater 50 feet wide and 20 feet deep.

Ready! Aim! Fire! A crew of up to 110 could load and fire a maximum of two shells every minute.
---