---
FAST FACTS HAWAII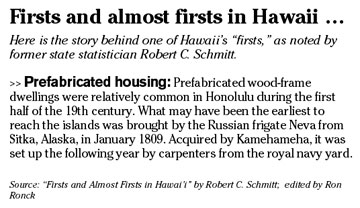 ---
NATION


How to travel smart on business trips

Don't let business trips derail your professionalism. Take them in stride with a few tips and shortcuts from one veteran business trekker.

"If anyone said to me years ago that I would be spending my life on the road, I would dread it," said Jan Tomlinson, an executive vice president at The Chubb Group of Insurance Cos. who spends half her work time traveling. "But it's invigorating to be in the field with people in other locations."

Tomlinson offers the following tips for professional road warriors.

» Pack smart: Keep a separate travel set of toiletries and cosmetics that you never unpack at home. Also, wrap your clothing in dry cleaners' plastic to help prevent wrinkles.

» The more you know: Stick with familiar hotel chains, so you know what to expect when it comes to security and amenities. Visit tourism Web sites for more local information, like safe places to jog.

» Watch the clock: Set your watch to the local time as soon as you board the plane, so you can adjust to the time change quickly.

» Stick to business: Keep a business trip strictly business and leave the family at home.

"I start the day with business breakfast and end it with a business dinner," Tomlinson said. "There's really never a lot time to do anything personally."
Companies push diversity training
Nearly three-fourths of U.S. employers plan to increase or maintain spending on diversity training this year, according to a recent survey of 2,046 senior HR executives by the
Novations Group
. More than half intend to keep expenditures the same as 2006, while 22 percent will spend more. However, one in five employers don't budget a cent to diversity training, the survey also found.
Globalization is the leading factor in driving diversity and inclusion training, said Novations Senior Vice President Gerry Lupacchino.
"The focus used to be primarily U.S.-oriented and had to do with EEO compliance," Lupacchino said, referring to equal employment opportunity regulations. "But as the work force demographics of U.S.-based companies change, organizations face complex new challenges in all regions and D&I training has to keep pace, if not lead the way."
Lupacchino pointed out that companies are turning to outside diversity specialists to train senior-level employees, but keep training internal for everyone else. He also said that intergenerational issues are getting more attention from senior management as Baby Boomer executives engage their younger counterparts.
How to plan for family vacations
Family vacations should be fun for everyone, but often the hassle leaves parents needing a vacation away from the family vacation. One expert gives tips on how to avoid the chaos.
"Whether you have one child or five, there are proven ways to cut back on the stress of planning a great vacation and ensure that your family time together is unforgettable," said John Frenaye, travel expert on MSNBC.com and spokesman for Disney Rewards Visa.
» Thorough planning: Keep the trip family-friendly by getting the kids involved in the planning. Put together a list of possible activities beforehand, so you spend more time doing the activities instead of looking for them.
» Remember to rest: Don't keep everyone on the go all the time. Schedule in some down time so everyone can recuperate from the day's activities.
» Prepare for the worst: The unexpected and unpleasant are going to happen, whether it's a delayed flight or a rental car snafu. Bring along distractions like portable DVD players, iPods and toys to keep everyone entertained.
---
BUSINESS PULSE