WEEKEND
This bluesman is rarely blue
The life of a bluesman is seldom easy, because, by definition, hellhounds dog his trail. And certainly, Gregg Allman has had reason over the years to sing the blues. His father was murdered by a hitchhiker. His brother and legendary slide guitarist Duane Allman was killed in a motorcycle accident just as he was getting established. By freaky coincidence, band member and bassist Berry Oakley was killed on a motorcycle a year later near the same location.
Gregg Allman and Friends
Friday: 7:30 p.m., Castle Theatre, Maui Arts & Cultural Center

Saturday: 8 p.m., Grand Ballroom, Hilton Waikoloa Village on the Big Island

Sunday: 6:30 p.m., Events at the Tower (formerly Kapono's), Aloha Tower Marketplace

Tickets: $60 advance; $70 at the door for Oahu show or online at hawaiibesttickets.com

Call: 808-242-7469 (Maui); 808-886-1234 (Big Island); and 545-5900 (Oahu)
Drug busts and acrimonious band breakups. Finger-pointing and door-slamming. Reformations and dissolutions. Recently, band member and guitarist Dickey Betts' increasing unstable behavior. Problems with drugs and booze. Ten years since drying out and 10 years since recording a solo album. At least six marriages, including a hitch with Cher and recording an album with her titled "Allman and Woman -- Two the Hard Way."
And yet, by all accounts, Gregory Lenoir Allman is healthy and happy and content at age 59. The Allman Brothers Band still exists, but only for a few months every spring and summer, and he's free to tour on his own with his friends.
Gregg Allman and Friends have been playing the neighbor islands this week, reaching Oahu for a gig at Aloha Tower Sunday night.
Any musician of Allman's stature has some heavyweight friends. Sitting in with Allman are pianist Neal Larson, percussionist and backing vocalist Floyd Miles -- both have jammed with Allman for more than four decades -- slide guitarist Michael Barnes and honking saxophonist Jay Collins, plus drummer Steve Potts from the Booker T. band and bassist Jerry Jemmott laying the foundation.
The tortured history of the Allman Brothers Band is complex to go into without a flow chart, and is likely already memorized by Allmanistas. Suffice it to say that Gregg Allman is considered one of the finest singers of his generation, and that he never tours without his faithful Hammond B-3 organ. In fact, Allman's sole condition on joining his brother's band was that he be given a B-3.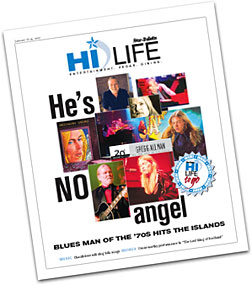 Now Allman's got six B-3s, although two have wound up in musical halls of fame. The big swirly sound comes from an authentic piece of rock 'n' roll technology that's wired with such complexity that Allman calls it "Chinese arithmetic," and uses real wires, not circuit boards. Copper thieves, take note.
Anyone expecting Allman Brother Lite will be disappointed. On his own, Allman's music is tuned into finger-snappin,' hip-shakin' R&B, instead of endless jazzy solos. Not that there's anything wrong with that. It's just different.
Allman has indicated he's going to record a new solo album this spring, and it seems to be a productive period for him. With the Allman Brothers Band, Allman was inducted into the Rock and Roll Hall of Fame in 1995. Last year he received a Lifetime Achievement Award from the Georgia Music Hall of Fame. And his own kid with Cher, Elijah Blue Allman, says the Allmans' music is OK, but, personally, he prefers Black Sabbath.
No wonder Gregg Allman occasionally sings the blues.