All ages invited to 'Trip the Lights' at rRed
UNDERGROUND SOUNDS return to the rRed Elephant once again, as
Kavet the Catalyst
brings "Trip the Lights: Air Born Audio" to the downtown performance venue.
Doors open at 8 p.m. Friday, and as usual, all ages are invited to the party. DJs Solution and Rockadile will showcase their turntable skills at some point during the evening, and there will be live performances by the Audible Lab Rats, Nabahe and BlackEmpty, Joe Dub and Wade from Nomasterbacks.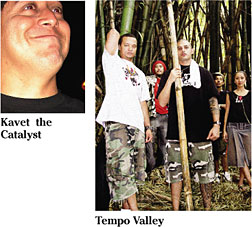 Cover for "Trip the Lights" is $15 at the door, with $10 presale tickets available at Prototype in Pearlridge. Check out www.lightsleepers.net ...
ALSO ON Friday: Cruxshadows will celebrate their new album with a special edition of "Flesh" at Galaxy Nightclub.
DJs I/O Control and SailorGloom will get things started around 10 p.m. with two rooms of dark dance music, and will preview tracks off Cruxshadows' "Dreamcypher" at various points during the night. At 2:30 a.m. the party switches gears, morphing into an after-hours rave with DJs Bit and Rigpa joining the fun and spinning a mix of trance, house and breaks until 6 in the morning.
Cover at Galaxy is $10 until 2:30 a.m. and $8 afterward; ages 18 and over are welcome ...
IF ISLAND music is more your style, check out Hawaiian Brian's on Friday for the first installment of the "Hawaiian Brian's Concert Series."
The inaugural show will feature live performances by Internal Rhythms and Kulani starting at 7:30 p.m. This would be a good pick for those who want to relax in a smoke- and alcohol-free environment, and cover is just $5. Call 946-1343 ...
I'M HAPPY to see Tempo Valley playing out more often in 2007. The Kaneohe-based band utilizes a fusion of hip-hop and jazz to create some incredible music, with the vocals of MC Seph-1 and Jen "Paisley" Cua blending nicely over the beats.
These days, you can catch the quintet live on Saturday night at Jazz Minds Art and Cafe starting at 9:30 p.m. They also gig Wednesdays from 4:30 to 7:30 p.m. at the Hard Rock Cafe, and are semi-regular guests later the same evening at the Mercury Bar downtown ...
LOCAL LADIES are invited to participate in the 2007 Maxim Girl Search during an open audition Sunday at the Ocean Club.
Keep in mind that this is not a bikini contest -- the magazine is looking for beautiful women who are "fun, lively, charismatic and witty." Of the 60 applicants picked to participate, only one will move on to Maxim's national finals, where 10 regional winners will compete for the opportunity to appear in the magazine. The local winner will also receive $500 cash and a new wardrobe courtesy of Partymasters Hawaii.
Following this weekend's audition, four preliminary rounds will be held at Zanzabar, the W Honolulu, the Ocean Club and Ciao Mein on Jan. 26, Feb. 18, Feb. 23 and March 2, respectively. The top three finishers will then move on to the finals, March 10 at Pipeline Cafe.
There is no fee to enter the competition, and it is open to both visitors and local residents who are at least 21. Call 957-0303 for information and to register ...