---
FAST FACTS HAWAII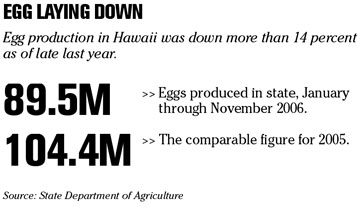 ---
HAWAII
Fare war spreads to Molokai, Lanai
Island Air
fired back at
Pacific Wings
yesterday by offering a $32.10 one-way fare that will be available on nine seats on all flights from Honolulu to Lanai and Molokai, and between Molokai and Kahului, Maui.
The new fares will be available Feb. 1 and only can be purchased online at islandair.com.
Island Air's nine-seat limitation on the special fares comes one day after Maui-based commuter Pacific Wings offered $29 one-way fares on the same routes with its nine-seat Cessna Caravan 208s.
Les Murashige, chief operating officer of Island Air, said the carrier's $32.10 fare includes all taxes and fees, and noted that Pacific Wings' fare actually is $34.90 once all taxes and fees are included.
"It is clear that the interisland market is being tested by discount fares with a less-than-first-class product," Murashige said about Pacific Wings.
Island Air, based in Honolulu, offers 75 daily flights between all the islands.
[HAWAII INC.]
PROMOTIONS
» Ruth's Chris Steak House has announced the following new hires:
Angela Smith
has been named executive chef for Ruth's Chris Lahaina. She previously served as corporate pastry chef and account executive for Island Epicure.
Adam Tabura
has been named executive chef for Ruth's Chris Wailea. He previously served as chef de cuisine at several Hawaii hotels and resorts.
» Starwood Hotels & Resorts Hawaii has named Don Elliot vice president of operations. He joined Starwood in 1983. Erik Berger has been named general manager of Sheraton Moana Surfrider Resort. He previously was general manager of Walt Disney World Swan and Dolphin Resort.
» Team Vision LLC has announced the following new hires: Paula Murakami will head the media sales division. Kirk A. Sonnier has been hired as senior web manager. He previously served as contract project manager and business systems analyst for Microsoft in Redmond, Wash. Arnold Paradeza will be a lead graphic designer and support the existing design team. He previously was art director for the Harris Agency.
» Central Pacific Bank has promoted Curtis W. Chinn to executive vice president and chief risk officer from executive vice president and chief credit officer. He joined the bank in 2003.
» Prudential Locations has announced the following new hires: Bobby Conn specializes in investor purchases and 1031 exchanges. Julia Fetzer will work in North Shore real estate. Lori Sharpe returns to Prudential from Centex Properties, specializing in Mililani and Ko Olina residential properties. Wayne Ching joins Prudential from Castle & Cooke Realty Inc.
ON THE BOARD
» The Hawaii chapter of the Public Relations Society of America has announced its board of directors for 2007:
Sara Platte
, president;
Janet Crawford
, president-elect;
Kristen K.C. Bonilla
, secretary;
Dawn Dunbar
, treasurer. Directors:
Donda D. Spiker, Candice Kraughto, Rebecca Pang, Amy Hennessey, Dee Okahara, Nancy Daniels, Michael Ni, Nathan Kam, Maria Quidez, Melissa Chang
and
Song Choi
.
» Diamond Head Theatre has announced its board of directors for 2007: Gabriel Lee, chairman; Hugh C. Damon, president; Timothy E. Johns, vice president/treasurer; Rae McCorkle Sultan, vice president/treasurer; and Gary Kai, immediate past president. New members: Patrick (Rick) Ching, Christine Doane, Joey Harris, Jonathan McManus, Lance A. Mizumoto, Justin Kai Romig, Jason Taylor and Vernon Wong.
---
NATION / WORLD
Mortgage rates highest in 9 weeks
WASHINGTON » Rates on 30-year mortgages rose this week to the highest level in nine weeks as financial markets reacted to a series of more upbeat financial reports.
Mortgage giant Freddie Mac reported yesterday that 30-year, fixed-rate mortgages averaged 6.23 percent this week, up from 6.21 percent last week. It was the highest level since 30-year mortgages stood at 6.24 percent the week of Nov. 16.
Rates on 15-year, fixed-rate mortgages edged up to 5.98 percent, compared to 5.96 percent last week. Five-year adjustable rate mortgages rose to 6.04 percent, up from 6.03 percent. One-year ARMs rose to 5.51 percent, up from 5.44 percent last week.
A year ago, rates on 30-year mortgages stood at 6.10 percent while 15-year mortgages were at 5.67 percent, five-year ARMs averaged 5.75 percent and one-year ARMs were at 5.18 percent.
Chandler family bids for Tribune Co.
CHICAGO »
Tribune Co.
's largest shareholder offered to buy the struggling media conglomerate and spin off its broadcast division in a deal disclosed yesterday and valued at $7.6 billion.
Tribune directors now will huddle to determine whether the bid by the Chandler family, which came in below what the company once had hoped to receive, or any other offer is worth accepting or whether it should pursue another strategy to boost its sinking stock.
The offer by the Chandlers, which owns 20 percent of Tribune stock, was disclosed in a filing with the Securities and Exchange Commission.
Details about other bids remained unclear, but it was reported that Southern California billionaires Eli Broad and Ron Burkle submitted a proposal that amounts to a recapitalization plan -- short of a pure buyout offer.
The Wall Street Journal reported that at least three groups submitted offers.
Japan keeps interest rate unchanged
TOKYO » The Bank of Japan decided yesterday to keep its benchmark interest rate unchanged at 0.25 percent amid mounting political pressures to hold off on raising borrowing costs to sustain the nation's economic recovery.
The Bank of Japan's decision follows a series of stern warnings from top government officials not to raise rates too quickly and choke off the recovery, leaving the impression monetary authorities had caved in to worried politicians.
"The bank appears to have succumbed to last-minute pressures," said Shuji Tonouchi, economist with Mitsubishi UFJ Securities.
Tonouchi said a hike was likely in February, however.
Japanese media reports over the last couple days said authorities would hold off on raising rates for the first time since July, countering market expectations in previous weeks.
The central bank is independent, but political opinion has been known to influence policy in the past.
---
BUSINESS PULSE