I WANT MY MTV
Beyond the beach
Here's what happens when a group of Maui friends turn their lives over to MTV for a new series
LAHAINA, Maui » Anna is 20 years old, gorgeous and sprawled on a king-sized bed in a white tank top and low-rise skinny jeans. She can't reveal her last name because she's featured on the new MTV reality show called "Maui Fever," and they don't do last names.
After filming wrapped a couple of months ago, she and her friends gathered at a condominium resort in Lahaina, where all seven first-name-only stars conducted interviews on the bed -- sometimes three at a time, between bursts of laughter and good-natured teasing -- in a fitting preview to a show that's sure to take some expected turns and include plenty of sexual tension.
'MAUI FEVER'
Sneak peek: 4:30 p.m. today on MTV
Regular airtime: 10:30 p.m. Wednesdays, after "Real World"
Online information: www.MTV.com



PHOTOS COURTESY MTV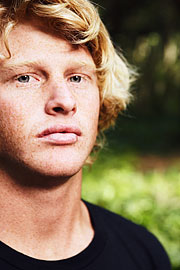 CHeYne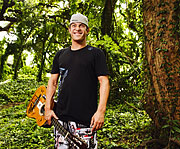 CORBIn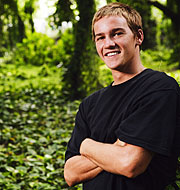 AnTHOnY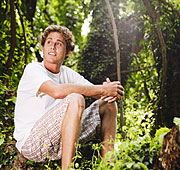 SeAn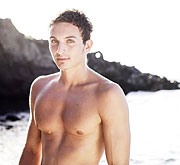 JeSSIe

"We're coming to realize there's a lot of stuff that's going to be aired, and you don't realize it at the time it's happening," said Anna, who often forgot the cameras were rolling.
And what about the millions of people watching her personal drama unfold each week?
"I've tried not to think about it," she said. "You're like, I just want to cry by myself and have nobody around, and then there's a camera there." Some days after shooting she reviewed the events in her mind and said to herself, " 'What did I just do?' " She shrugged. "But that's life. That's who I am."
The new eight-part series set on Maui highlights five men and two women, ages 19 to 24, surfing, working, partying (Halloween in Lahaina!), hooking up with each other and/or tourists, inspiring daily crises, following their dreams and their hormones, hanging out in a destination that will look pretty good to teens whose parents ordered them to shovel snow off the driveway that day ... and did we mention partying?
Interestingly, they weren't gleaned from a nationwide casting call. The producer wanted locals (though we'll have to endure the national press referring to the group as "Hawaiians"). Some were born and raised in Hawaii, and Cheyne, Chaunte, Anthony, Anna, Corbin, Sean and Jesse all lived on Maui and had known each other prior to filming. But unlike the enforced house-turned-dormitory operation seen on other MTV programs, the "Maui Fever" cast members retained their separate residences.
ACCORDING to creator and executive producer Morgan J. Freeman, who spent summers in Kaanapali while growing up, the Valley Isle will feature prominently as a character on the show, meaning plenty of scenic shots will supplement views of the attractive cast in minimal beachwear. "Specifically, Maui is paradise for a lot of people on the mainland," he said. "For me it's always had the allure of this sort of vacation lifestyle."
A solo trip to Maui In 2004 inspired the idea for the show. Freeman took time to observe the island lifestyle as a filmmaker. "It was so charged with drama, so charged with sexual energy," the 37-year-old Long Beach native said. "These locals are breaking hearts (of tourists and one another) every other minute. You just have to decide which one you want to film."
When casting the show, Freeman specifically looked for a group of pre-existing (good looking, obviously) friends with constantly mutating, emotionally rich relationships. "We're not taking characters and throwing them on Maui and seeing what happens," he said. "We're not changing where they live and what they do with their lives. We're recording it. We don't orchestrate anything."
This is why episodes do not include interviews. It's a "non-confessional" style, also known as millions of people eavesdropping via camera and microphone.
BUT THIS is what sets "Maui Fever" apart. "It's the nuances that you don't even know you got that make the show special," said Freeman, whose first feature film, "Hurricane Streets," won three major prizes at the Sundance Film Festival in 1997. "We have to tell our story with reactions and gestures."
Anna, who lives with the other girl on the show, 19-year-old Chaunte, confirmed this. "It's pretty much just our real lives: Relationships, friendships, dramas and the ups and downs of living in such a touristy place."
According to Anna, who grew up in Portland and has lived on Maui for about three years, more conflicts occurred between the girls, "just because girls are always more catty," she said matter-of-factly.
Besides that tantalizing tidbit, why should viewers tune in? "We're a crazy group of people," she said. "And we all have different personal relationships with people."
When asked if she would gather with her friends for group viewing when the shows aired, she shook her head. "Personally, I would want to watch every episode by myself," she said. "I'm probably going to have a lot of different reactions to myself, and it's going to be kind of weird."
While enthusiastic about the experience, all agreed that spending three months in front of a camera wasn't easy.
Cheyne, 23, a professional surfer who used to date Anna and is definitely not finished with her, said it was "kind of like, cramping your style." Sean, 24, added that when the crew hit the streets of Lahaina, a crowd typically assembled. That, too, wore thin, and he could see how being famous could "get annoying."
That alone gave them a hint of how their lives could change.
"I'm excited to see what happens, what comes from it all," said Chaunte, who works as a hostess in a restaurant and keeps Anthony as a love interest -- when it suits her.
"I never would have thought this in a million years, but if something comes from it, I'll run with it, guaranteed," said Anthony, 19, who grew up on Maui and will begin studying graphic design at the University of Hawaii. "Maybe, somehow it could tie into my art."
Corbin, however, remained cautious and focused on his musical ambitions. "I'm still the same person," said the 24-year-old who grew up on the Big Island. "The music's really where it's at. I'm not, like, Mr. David Hasselhoff."
FREEMAN'S affinity for characters and storytelling undoubtedly will drive the series. "To me the charm of our show is our cast," he said. "They have fun, and to me they're loaded with watchability. ... It's emotional and it's beautiful and it's heartbreaking. It's not unlike all the journeys I went on 20 years ago. It's a story of youth."
All of them understood this. "If anything," said Anna, "we're going to have a diary of our lives."