---
FAST FACTS HAWAII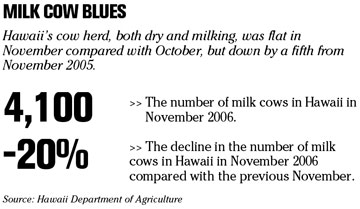 ---
HAWAII
Public gets more time to speak on Laau Point
Molokai Ranch
has extended the deadline for public comment on the draft environmental impact statement on its Laau Point residential project by more than two weeks.
Comments on the draft impact statement, which contains reports on potential economic, environmental, social, cultural, archaeological and marine impacts, now will be due on Feb. 23.
"This project is extremely important to the people of Molokai and we want to ensure there is sufficient time for the community to review the DEIS and comment," said John Sabas, general manager of community affairs for Molokai Ranch.
The draft can be reviewed at the Molokai public library, the Molokai Ranch office in Maunaloa, and at the state Office of Hawaiian Affairs office in Kalamaula. It can also be downloaded from the state Land Use Commission Web site: luc.state.hi.us.
[HAWAII INC.]
NEW JOBS
» Case Lombardi & Pettit has appointed two new directors and shareholders.
Mark G. Valencia practices in the areas of civil litigation, with an emphasis in complex litigation matters. He has successfully handled several complex cases including insurance, foreclosure, bankruptcy, land use and employment law matters.
Esther S. Han practices in the areas of real estate acquisition, financing and development, sales and management, and zoning and entitlements. She also has experience in general corporate business transactions and finance and restructurings.
PROMOTIONS
» Sheraton Hotels & Resorts in Waikiki has promoted
Jodi Kawahara
to senior human resources manager of employment from human resources manager of employment. She will oversee hotel recruitment and develop hiring strategies for the Sheraton Waikiki, the Royal Hawaiian, Sheraton Moana Surfrider and Sheraton Princess Kaiulani hotels. She joined Sheraton Waikiki in 2005 after transferring from Sheraton Grand Hotel in Sacramento, Calif.
ON THE BOARD
» The Building Industry Association of Hawaii has installed its new officers for 2007:
Bill Paik
, president;
Mary K. Flood
, president-elect;
Mike Brant
, vice president;
Doug Pearson
, secretary;
Marlene Lum
, treasurer;
Paul Silen
, special appointee-builder;
Peter Eldridge
, special appointee- associate;
Alan Shintani
, immediate past president; and
Karen Nakamura
, chief executive officer.
>> The Aloha Society of Association Executives has elected its officers and directors for 2007: Barbara Kono, president; Roberta Cullen, vice president; Cynthia Hayakawa, secretary; and Dennis Tanimoto, treasurer.
>> The Mediation Center of the Pacific has announced its officers and directors for 2007: Ruth Tschumy, president; Charles Hurd, vice president; Roberta Lee-Driscoll, treasurer; and Warren Haight, secretary.
» The Hawaii State Bar Association has announced its new president and officers for 2007. Jeffrey S. Portnoy has been elected president. He succeeds Wayne Parsons. Other SBA officers include: Jeffrey H.K. Sia, vice president/president-elect; Robert Godbey Carson, treasurer; and Hugh R. Jones, secretary.
AWARDS
>>
Prudential Locations
has announced the winners of its 2006 Aloha Aina awards:
Michael Healey
of the Maui office received the people's choice award;
Rosalynn Edu
and
Sherrie Akana-Kuroda
of the Diamond Head office both received the outstanding newcomer of the year award.
---
NATION / WORLD
Netflix to start Internet delivery
LOS GATOS, Calif. »
Netflix Inc.
will start showing about 1,000 movies and TV episodes over the Internet this week, providing its subscribers with more instant gratification as the DVD-by-mail service prepares for a looming technology shift threatening its survival.
The company plans to unveil the new "Watch Now" feature today, but only a small number of its more than 6 million subscribers will get immediate access. Netflix expects to expand it by 250,000 subscribers each week through June to ensure its computers can cope with the increased demand.
The instant viewing system only works on personal computers and laptops equipped with a high-speed Internet connection and Microsoft Corp.'s Windows operating system.
Scandal claims Japanese candy exec
TOKYO » The president of a major Japanese cake and candy maker said yesterday he was stepping down after acknowledging the company had repeatedly used old milk and other ingredients in cream puffs and other products.
The scandal at Fujiya Co. has alarmed the nation partly because the memory of a similar scandal at Snow Brand Milk Products Co., in 2000, in which old milk sickened more than 14,000 people, the country's worst outbreak of food-poisoning. Although Fujiya's problem has not caused food poisoning, it has been devastating for its public image.
Apple stock is riding high
Apple Inc.
is expected to report fiscal first-quarter results tomorrow. The computer maker last week reached an all-time high after it unveiled plans for a mobile phone and said it was dropping "Computer" from its name. Analysts expect Apple to earning 78 cents per share. The stock, which closed Friday at $94.62, has traded between $50.16 and $97.80 in the past 52 weeks.
---
BUSINESS PULSE