---
FAST FACTS HAWAII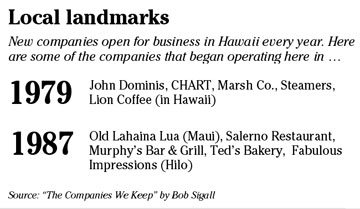 ---
NATION


Many see themselves as 'entrepreneurial'

More than eight out of ten Americans consider themselves "entrepreneurial" and one quarter dream of owning their own business, a new

Ace Hardware

survey shows.

But to get their business off the ground, 71 percent said they need financial support, while 42 percent would like mentoring from successful entrepreneurs. Ace polled 1,059 adults in December.

"Entrepreneurship is what made this country great, but so many people are afraid to fail and don't even try to start their own business even if they want to," said Bill Rancic, the first winner of the television show "The Apprentice" and spokesman for Ace's "Dream Ace" contest.

Eight years ago, Rancic launched a successful company called cigarsaroundtheworld.com from his studio apartment. Rancic offers the following tips for aspiring entrepreneurs:

» If you're looking for more free time and extra money, starting your own business is not for you. "Running your own business is like a baby. It requires a lot of attention in the beginning, but as it grows, it needs less and less," he said.

» If you set your goals too high in the beginning, you're setting yourself up for failure. Maintain realistic expectations and manage those expectations as your business grows.

» Stay agile: If the world changes around you, don't be afraid to change your plan.
More couples tackle finances jointly
Last year saw more men and women tackling household finances together than in 2005, according to a survey from
OppenheimerFunds
.
The company surveyed 500 female and 500 male investors last year and found that 40 percent of male and female respondents reported that they manage the household budget, update their wills and teach their children about money with their spouse, up from 30 percent the year before.
Additionally, half said they share retirement saving and investing responsibilities, while eight in ten think it's important to discuss investment decisions with their spouse.
Tread carefully if worker arrested
It's Monday morning and, while checking your e-mail, you get a call from one of your employees. Surprise: he's in the slammer. What do you do?
"This is a situation in which employers need to make a decision, and if they act purely on instinct, they may be making the wrong decision," said Sean McDevitt, a partner with Pepper Hamilton LLP in Washington, D.C.
McDevitt offers the following advice:
» Seek legal advice: Consult with an attorney to sort through employees' rights and any employment agreements or union contracts.
» Stay mum: Don't talk to the media, especially if your company is a large, recognizable brand. Also, avoid discussions with non-management employees.
» How offensive? Find out what the alleged offense is. If it's minor, some companies may be willing to overlook the infraction.
» Fair treatment: Make sure to gauge how other co-workers and customers may feel working with this employee, if he returns. Also, stay cognizant that staff members are watching how management handles this case and could affect their feelings toward the company.
---
BUSINESS PULSE