Pedestrian is killed in Ewa Beach
A man hit while in a marked crosswalk becomes Oahu's third traffic fatality for 2007
A 75-year-old Ewa Beach man was fatally injured yesterday morning as he was struck by a car as he walked across Renton Road in a marked crosswalk, police said.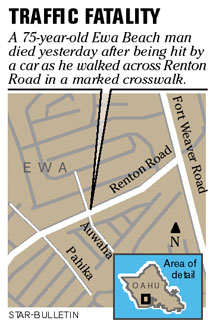 Police said the man was struck by a car driven by a 37-year-old Ewa Beach woman.
Traffic investigators have opened a negligent-homicide case, but no arrest was made.
Police said the pedestrian was crossing Renton Road from north to south 13 feet west of Auwaha Street at about 7:35 a.m. when he was hit by a maroon 2001 four-door Hyundai sedan going east on Renton Road in the far right lane.
Police at the scene said the man had been thrown about 40 feet into some bushes. The impact damaged half the Hyundai's windshield. The car's air bags did not deploy.
The man was taken in critical condition to the Queen's Medical Center, where he died at 12:10 p.m. yesterday.
The Medical Examiner's Office had not identified the victim last night.
This was the second pedestrian killed by a vehicle this year, just five days after the death of a 73-year-old woman who was struck by a taxicab as she sat at a bus stop in Waikiki.
This was the third traffic fatality for Oahu this year, compared with one death at the same time last year (which was not a pedestrian accident).
---
Star-Bulletin photographer Craig Kojima contributed to this report.