---
FAST FACTS HAWAII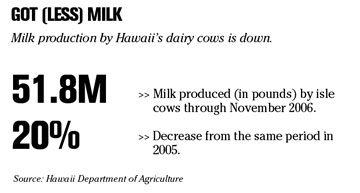 ---
HAWAII


Hawaiian Airlines' load factor slips Hawaiian Airlines,

which flew more trans-Pacific and interisland flights in December than a year earlier, said its load factor fell for the month as it added more flights.

The carrier said the percentage of seats filled fell 4.9 points to 84.2 percent from 89.1 percent a year earlier, although the number of passengers it carried increased 10.3 percent to 556,660 from 504,735.

The airline reports only its systemwide numbers and does not break out figures for its interisland and trans-Pacific routes.

For the full year, Hawaiian's load factor decreased 1.1 points to 86.4 percent from 87.5 percent while the number of passengers carried rose 6.2 percent to 6.2 million from 5.8 million.
Horizon to start Micronesia route
Horizon Lines LLC
will begin new service to the Federated States of Micronesia and the Republic of Palau beginning Monday.
Subsidiary Horizon Lines of Guam will offer through bills of lading for service between Chuuk, Pohnpei, Kosrae, Yap and Palau, and the United States. Shipments between the United States and Guam, Tinian and Rota will continue to be booked with Horizon Lines LLC.
The new service will use Horizon Lines LLC vessels for service between U.S. mainland ports and Guam. FSM Line will provide service between Guam and Chuuk, Pohnpei and Kosrae. Western Pacific Shipping will offer service between Guam and Yap and Palau.
Customers will be able to book cargo directly for these destinations through a toll-free number, 1-888-747-4794. Sailing schedules, rates and other information are available at www.higuam.com.
Broyhill Furniture Gallery opens
Hawaii's first Broyhill Furniture Gallery opened for business yesterday in 5,000 square feet of space at Room Stores Hawaii on Malaai Street in Salt Lake.
The furniture brand has been available in Hawaii for five years through C.S. Wo & Sons Ltd., but this is the first time the furniture has been displayed in an exclusive gallery here.
Thomas Broyhill, company founder, made his first investment in the furniture manufacturing business in 1905. According to Hoovers.com, Broyhill manufactures furniture in No. Carolina and Virginia but has closed some 10 manufacturing plants and a supply operation since 2001. It and many other furniture making companies is owned by Missouri-based Furniture Brands International Inc.
Michael Wo, a member of the C.S. Wo family, is a minority investor in the Star-Bulletin.
NATION


Wal-Mart picks new ad agencies

NEW YORK »

Wal-Mart Stores Inc.

said yesterday that it has picked

Interpublic Group of Cos.'

Martin Agency, known for its quirky ads for

GEICO

insurance company and

UPS

, to help spearhead the discounter's future image with consumers.

The decision comes after the world's largest retailer in early December dumped its newly hired Draft FCB, another division of Interpublic Group, two days after the highly publicized firing of a top marketing executive, Julie Roehm along with her subordinate, Sean Womack.

Wal-Mart said yesterday that Martin Agency will handle its creative responsibilities, and announced that Publicis Groupe SA's MediaVest will oversee media buying and planning duties. Wal-Mart's media and creative business is worth more than $500 million

Wall Street analysts will be closely watching how the agency will help shape Wal-Mart's future message. Efforts over the past year and a half to improve its image with trendier fashion brands and home fashion accessories have fallen flat. Wal-Mart reported disappointing fall and holiday sales.




---
BUSINESS PULSE