CINEMA
Eastwood sends his 'Letters' soaring
At one point, the tired, distraught and bitter Japanese soldiers holding Iwo Jima emerge blinking into the sunlight, and there, twinkling on the horizon, is a faraway dot atop a cinder cone. It's about as distant as you can imagine, as if viewed through reversed binoculars. It is, naturally, the American flag being raised on Mount Suribachi, an event celebrated and debated and of immense interest to Americans. To the Japanese, well, it's that little skirmish way over there.
"Letters from Iwo Jima"
Rated: R

Opens Friday at Consolidated Ward




"Letters from Iwo Jima" is the bookend to Clint Eastwood's masterful "Flags of Our Fathers," and the two, once seen together, seem indivisible. "Flags" is a grander film, more reaching in scope and effect and thoughtfulness, while "Letters" is smaller and more meditative. "Letters" takes place in the present, while "Flags" hobnobs with flashbacks and flashforwards. "Flags" is complicated -- how does a captured moment become part of a national conscience? "Letters" is simpler, more elegaic and emotional and claustrophobic -- how does one die with honor?
While the two movies share the same production values -- primarily Henry Bumstead's art direction, Tom Stern's spare and brutal cinematography, Eastwood's minimalist score, a certain framing of the devastated landscape of Iwo Jima, Paul Haggis' intimate way of writing characters -- they don't overlap, not even by a shot. In both, the "enemy" is dehumanized and seen at a distance, except in a couple of sorrowful POW captures, none of which end well. Here, an American actually shoots his prisoner. We're dealing with reality here, not values projected retroactively.
The story is basically the Japanese edition of the Alamo legend, except that, Japanese and American cultures being what they are, the Alamo is celebrated in America and Iwo Jima is studiously glossed over in Japan. It was, after all, a defeat.
There is a bit of a framing device in which Japanese battlefield historians discover some letters are buried in a volcanic cave. The voices of the dead are heard through these messages, ranging from the lowliest of privates to the disciplined, realistic commander . The movie basically focuses on four soldiers, and although we know from the outset they are doomed -- at least we think we do -- it slathers a measure of dramatic irony on everything. Eastwood's real triumph in this film is that the incipient mawkishness is tamped down in favor of ruefully observed realism.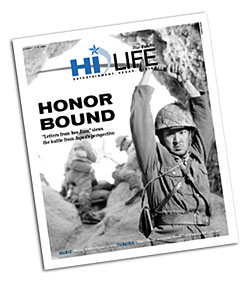 THE LOWEST of lowly privates is Saigo, whom we meet doing what privates do, digging holes and filling them in again. He's a small-town baker with what seems to be an impossible dream, that is, staying alive to meet his newborn daughter. That seems very unlikely, not just because the Americans are shooting at him, but because Saigo has a smart mouth that is likely to get him executed by his own officers. Although he's played by Kazunari Ninomiya (apparently a member of a popular boy band in Japan), Saigo has the open, guileless expression of an innocent bumpkin -- one who's thinking two steps ahead of everyone else.
At the other end of the command chain is Gen. Tadamichi Kuribayashi, flown in to take over the defenses of Iwo, and who decides, based on his experiences with real Americans, to scrap traditional Imperial Army defensive strategies and concentrate on a bloody slugfest to cost the Allies dearly. It boils down to skipping the glorious (and ineffective) samurai charges and instead fighting a battle of attrition from within tunnels and spider holes.
The general is played by Ken Watanabe in one of the great performances of the year, a man consumed with both an intelligent appreciation of the irony of his situation and a steely-eyed warrior's resolve to bloody the enemy. Not many actors can carry off what is literally a commanding performance.
Kuribayashi's compatriot and confidant is Baron Nishi, a blue-blooded star of the Imperial Army who, like the commander, knows Americans by name. Those names include Mary Pickford and Douglas Fairbanks, who hosted Nishi at their Los Angeles home when he competed in equestrian events at the 1932 Olympics. He brings a magnificent horse to the barren island, a move that doesn't end well. The charismatic Nishi is played with aristocratic swagger by Tsuyoshi Ihara.
SOMEWHERE in between, literally and ethically, is Shimizu (Ryo Kase), a replacement soldier with a mysterious background that Saigo correctly interprets to be a stint in the Kempeitai "thought police." The soldiers believe Shimizu has been placed in their midst to spy upon them, and they have good reason to suspect so, as the Imperial Army was known for brutal corporal punishment and ruthless hammering of the iconoclast nails that stick up. But Shimizu's secret is one that causes embarrassment to a military Japanese and would be a point of honor to an American. This is how we know we're immersed in the culture of a foreign land. These characters aren't Hollywood stereotypes with "exotic" accents.
The nature of the Japanese defense makes the movie somewhat claustrophobic, which helps the overall effect of forced intimacy. When combat happens, it's with shocking violence and savagery -- nobody is better at expressing the personal horror of brutality than Eastwood. His direction is as spare as it gets.
"Letters from Iwo Jima" was written in English by Haggis, and then translated into Japanese by Iris Yamashita, who transformed not only the words but also the characters' motivations into purely Japanese cultural mores. This is one of the best-crafted films of the year, and one that almost makes us forget that Eastwood is also an actor as well as a great storyteller.
(It's interesting that some of the best Hollywood films of the last year have been made in foreign languages, including "Letters From Iwo Jima," Mel Gibson's "Apocalypto," Guilleromo del Toro's "Pan's Labyrinth," Alejandro González Iñárritu's "Babel" and Tommy Lee Jones' "The Three Burials of Malquides Estrada" -- 2006 was the year of the subtitle.)