| | |
| --- | --- |
| | Island Mele |
---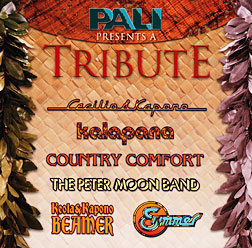 Pali Presents A Tribute
Pali
(Tropical Music STCD 6009)
The record industry has never been averse to remakes, that no-brainer process of simply recycling proven hits, but buyers in recent years have also been tempted with fresher ideas -- recordings that combine the voices of living artists with vintage tracks by the "late and great," albums in which contemporary artists each play a song by an iconic performer or writer, and albums where younger artists take turns sitting in with an old master.
Pali -- Pali T. Ka'aihue, Mark Kawakami, Dwayne K. Keomaka and Joey Mokulehua -- uses two of those proven concepts in honoring six popular local acts of the 1970s. Rather than simply remake hits by C&K, Kalapana, the Peter Moon Band and so on, the group and producer C.T. Kata Maduli have enlisted members of several of those acts to sit in with them.
And so, Malani Bilyeu sings lead on "Dorothy Louise," Henry Kapono plays guitar on "Railway Stations" and Randy Lorenzo is featured on "Island Love."
Pali, Maduli and their guests approach each song with respect. The liner notes share the history of the acts, and Pali's reason for doing each song.
---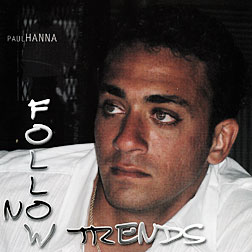 Follow No Trends
Paul Hanna
(KDE KDE8000)
KDE has been known for years as the boutique label of Kelly De Lima and his group, Kapena, but times change and Paul Hanna's debut album proves him a worthy addition to the catalog. It was produced, engineered and mixed by De Lima's son, Kapena De Lima, and Kapena shares credit with Hanna for the fascinating music tracks that support Hanna's incisive lyrics. Hanna and the younger De Lima play 12 instruments between them; their judicious use of steel guitar, Tahitian banjo and various percussion instruments, gives this album an unusual and intriguing sound.
Hanna establishes his credentials as a social commentator with "Noahs Ark," a call for compassion for the less fortunate and perhaps a bit less conspicuous consumption by those who have been blessed with excess. "Do U See" reiterates the message with fewer words and an lengthy semi-acoustic arrangement that displays the duo's instrumental skills. "Street Talk" segues smoothly from a cheery description of life in a local neighborhood to a topical protest against sending more troops to Iraq ("... to put out a fire you don't add more ...").
The interplay among percussion, organ and other instruments enhances the sense of water dripping in "Leeky Faucet," an enigmatic slice-of-life. Kelly De Lima joins his son and Hanna on the final number, an artistically successful remake of "Knockin' on Heaven's Door."
---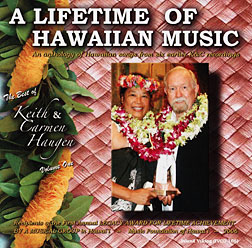 A Lifetime Of Hawaiian Music: The Best Of Keith & Carmen Haugen
Keith and Carmen Haugen
(Island Viking IVCD 106)
Keith Haugen is a unique figure in local music. Born in Minnesota, he settled in Hawaii in the 1960s and immersed himself in the Waikiki music scene. He subsequently married Carmen, wrote prolifically on topics ranging from the beauty of the protea to the importance of world peace, and eventually founded his own Island Viking record label. Haugen has also been active as an educator and radio personality, and studied Hawaiian so thoroughly that he speaks the language more fluently than most native Hawaiians.
Keith and Carmen are still active, but this 22-song anthology is a convenient retrospective on what they have done thus far. The selections were apparently culled at random from six albums released between 1978 and 2003. They include several of Keith's many previous compositions as well as standards such as " 'Ukulele Lady," " 'I Kona" and "Waikiki." Fans of the duo, and others who enjoy soft acoustic Hawaiian music, will welcome this collection.
The liner notes contain plenty of information about Keith and Carmen, but no translations or background information on the songs. For that go to www.hawaiiansong.com or e-mail Keith at hakumele@aol.com.
John Berger
, who has covered the local entertainment scene since 1972, writes reviews of recordings produced by Hawaii artists. See the Star-Bulletin's Today section on Fridays for the latest reviews. Reach John Berger at
jberger@starbulletin.com
.