The Girlas groove on with regular weekly gigs
DESPITE rumors of their demise, local acoustic rock chicas
The Girlas
continue to play around town in support of their debut album, "Now or Never."
"I think the confusion began with a dip in our gigging schedule and the fact that the lineup changed," writes Girla Candy Diaz Yasuda. "Anela (Choy) decided to pay more attention to her (graduate school) program ... while Kelli (Heath) returned home after being away from school for the year."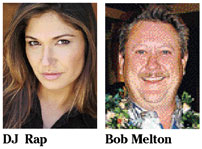 Faithful fans might also have noted the absence of Tiffa Cruz Garza, who has embraced a bigger role as a worship leader at her church and is spending more time recording religious music with husband Imua Garza. But according to Diaz, it only takes two Girlas to tango.
"The collective was assembled to be able to 'work' in any denomination," she wrote. "As long as there are two of us, we perform under the collective title 'The Girlas.' "
And with Yasuda committed to the cause with bandmate Carly Smith, there's no chance of The Girlas going away anytime soon. They have regular gigs at the Lily Koi Lounge (near Pearlridge) on Fridays and at Diamond Head Cove on Monsarrat every Wednesday, and will play a one-time date at Kapahulu Kafe on Thursday.
Next weekend, The Girlas travel to Maui for a scheduled appearance at a benefit concert for Mana'o Radio. Their Web site (www.thegirlas.com) is also scheduled to relaunch in February ...
ON FRIDAY: Female waxmaster DJ Rap arrives for a guest set during "Get Fresh!" at Indigo ... Fifth and Vogue Entertainment presents "The Friday Night Jump Off" at Don Ho's, with live performances by the Southpaw Outlawz and K-Town Boyz ... And don't sleep on "$5 Pitchas and Rubba Slippas," which is still going strong with Soljah Clothing and Matty Liu at Lulu's in Waikiki ...
ON SATURDAY: Sick Nick Productions presents Crucible, Twitch and Insult 2 Injury during an 18-and-over show at Bliss ... I-Deliver Entertainment throws down with "Da Westside Connection" at Just 1, featuring Krystilez, J-Sac, Street Rsinist, Al Vegas and I.A. ... Stand Alone Intertainment and Ruff Ryders Hawaii host the "Toga Toga Party" at Panama Hattie's, with performances by Maxx Effexx, Buckz Boyz and Rude Passion ...
ON SUNDAY: Honolulu Magazine jumps on the VIP party bandwagon, co-hosting "Honolulu" with Flash Hansen and Matty Hazelgrove at the W Honolulu from 9 p.m. It's VIP-only for the first hour, and Abe Lagrimas Jr. will be there drumming live ... Oyster and Soultree host "Soul Tree Sunday," a celebration of Polynesian culture, at NextDoor ... Mastermind Entertainment returns to Fashion 45 for another Black and White Party, with 102.7 Da Bomb's Jay Tee and Sam the Man sharing hosting duties ...
AND CONGRATS to Chuck's Steak House bartender Bob Melton for winning the third annual "Signature Drink Contest" sponsored by Outrigger Hotels and Resorts.
Melton's "Slack Key Star" paid tribute to the artists featured on "Legends of Hawaiian Slack Key Guitar: Live on Maui," and was tasty enough to win him a trip to Los Angeles, a two-night stay at an Outrigger property and a $50 gift certificate to Roy Yamaguchi's soon-to-open Waikiki Beachwalk restaurant.
The announcement was made last Thursday during a special reception for participating bartenders and all of the artists nominated for a Grammy Award in the Hawaiian category. Daniel Ho, Ledward Ka'apana, Dennis Kamakahi, Bobby Moderow and Amy Hanaiali'i Gilliom were among those in attendance ...