---
FAST FACTS HAWAII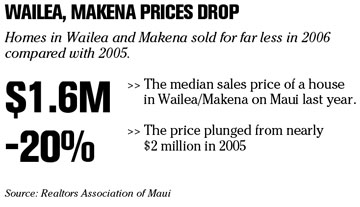 ---
[HAWAII INC.]
NEW JOBS
»
Smith Barney
has hired
Livingston Takane
as financial advisor. He will provide a full suite of financial planning and investment services to high net worth clients and individual investors, with a primary focus on retirement and estate planning, wealth management, private investments and portfolio management. He previously served as senior sales manager at the former Renaissance Ilikai.
» Alexander & Baldwin Inc. has named Son-Jai Paik as vice president of human resources. He will be responsible for all human resources functions for A&B and its subsidiaries, including employee development and training, benefits and compensation. He previously served as vice president of human resources for Lina Korea and has held several positions in his career since 1998.
» HMAA has elected J. Terrence "Terry" Mullen as director, president and chief executive officer. He succeeds Arnold "Arnie" Baptiste Jr., who resigned to focus on running his family-owned businesses. Mullen brings 32 years of insurance consulting experience to HMAA and will continue to serve as president and CEO of John Mullen & Co. Inc.
NATION / WORLD
AirTran gets hostile over Midwest offer
MILWAUKEE »
AirTran Holdings Inc.
appealed directly to shareholders yesterday with a sweetened offer of about $345 million in cash and stock for rival
Midwest Air Group Inc.
after the regional carrier rebuffed its earlier unsolicited takeover bid.
AirTran Holdings, which owns the discount carrier AirTran Airways, raised its offer for Midwest Air Group by almost 18 percent. Midwest said its board will evaluate the latest offer and make a recommendation to shareholders with 10 days.
"We certainly believe the consolidation has started in this industry and will continue and that Midwest is vulnerable," AirTran Chairman and Chief Executive Joe Leonard said during a visit to Milwaukee.
Airtran's renewed effort to buy Midwest Air comes only a day after US Airways Group Inc. raised its bid for Delta Air Lines Inc. to by about 20 percent to $10.3 billion. Delta had rejected the previous offer and opposed to the takeover bid.
HP investigator to plead guilty
SAN FRANCISCO » A private investigator charged with identity theft and conspiracy for his role in
Hewlett-Packard Co.
's ill-fated boardroom spying probe will plead guilty to both federal charges and testify for the prosecution, his lawyer said late yesterday.
Bryan Wagner, 29, of Littleton, Colo., will enter his plea during his scheduled arraignment hearing this morning in San Jose federal court, Wagner's lawyer Stephen Naratil said.
Wagner faces a mandatory minimum prison sentence of two years on the identity theft charge, and a maximum of five years for conspiracy.
Mortgages rise on inflation fears
WASHINGTON » Rates on 30-year mortgages rose this week to the highest level since mid-November after a better-than-expected employment report renewed inflation worries in financial markets.
Mortgage giant Freddie Mac reported yesterday that 30-year, fixed-rate mortgages averaged 6.21 percent this week, up from 6.18 percent last week. It was the highest level since 30-year mortgages stood at 6.24 percent the week of Nov. 16.
Analysts said that financial markets were reacting to a stronger reading on employment with 167,000 jobs created in December, the best showing in three months.
Ryder to freeze pension system
Ryder System Inc.
, the biggest U.S. truck-leasing company, will freeze its pension system and shift to a 401(k) savings plan, affecting about a third of employees.
The switch initially affects 9,400 of Miami-based Ryder's 27,000 employees, the company said yesterday.
Switching to a 401(k), known as a defined-contribution plan, will allow Ryder to more easily calculate how much it will pay every year for retiree benefits. Over time, the program should bring some savings and eliminate "volatility" in costs, Chief Executive Greg Swienton said.
Hyundai union votes to favor of strike
SEOUL »
Hyundai Motor Co.
's labor union voted today to go on strike over a dispute with management over the size of an annual bonus, the head of the union said.
Union chief Park Yoo-ki said that 400 representatives of the company's 44,000-strong union voted unanimously in favor of the proposed walkout. Park said the timing and details of the strike were to be decided over the weekend, including whether it would be a full-fledged or partial walkout.
Hyundai's union has refused to work overtime since late last month after workers received a bonus equal to one month's salary, which they say is less than agreed.
The company says the bonus total was based on an incentive to reach the company's 2006 production target and since that was not achieved because of strikes the payment was reduced.
MTV exec departing after just 15 months
In another management change at
Viacom
, Michael Wolf, the president and chief operating officer of MTV Networks, is leaving the company. The announcement came a day after another Viacom unit, Paramount Pictures, announced that its president, Gail Berman, was departing.
Wolf, a former consultant, had been at MTV 15 months.
---
BUSINESS PULSE