Sales, prices drop for neighbor isle properties
Both the total sales and prices of homes on Kauai and the Big Island dropped in the last month of last year, a contrast to Oahu, where prices went up a minuscule 0.6 percent.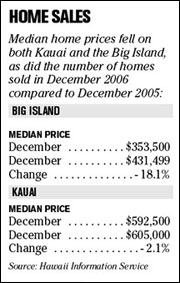 But the latest neighbor isle home statistics released by Hawaii Information Service reflect a continuing downward trend that is expected to continue throughout 2007.
The lower prices are no surprise to Debra Blachowiak, principal broker of Sleeping Giant Sotheby's on Kauai, because more homes are up for sale.
"It's changed from a seller's market to a buyer's market," she said. "Buyers are feeling more in control, and offering lower prices than sellers are accepting."
Sales remained fairly steady for homes on Kauai in December: Half sold for more than $592,500, and half for less, as the median price dropped 2 percent. In December 2005, the median price of a Kauai home was $605,000.
At the market's height of summer 2005, Blachowiak recalls the median sales price on Kauai reached close to $700,000.
Condominium prices on Kauai, on the other hand, increased to $570,000 last month, up 17.7 percent from $484,500 in December 2005. Realtors sold 47 condos, five fewer than the same time a year earlier.
Blachowiak said new luxury condominium projects that hit the market are likely contributors to the jump in prices.
On the Big Island, the median home price dropped 18 percent to $353,500 from December 2005. Despite the drop in prices, the number of homes sold declined by 41 to 160 in December.
Condominium prices on the Big Island dropped as well, to $340,000 in December 2006, compared to $359,000 in December 2005.
"I don't think it's so much a softening as it is the market correcting itself," said Mary Begier of Mary Begier Realty, which has offices on Oahu and the Big Island.
"People see that it's a really good time to buy," she said. "The prices are down and they're more negotiable."
The largest number of sales on the Big Island was in Puna, where real estate agents sold 55 homes, followed by North Kona, where they sold 36 homes.