WEEKEND
6-string sojourn
Rock and Roll Hall of Fame member and master guitar player Bonnie Raitt brings her music to Hawaii
Bonnie Raitt deserves to be labeled a "seasoned veteran."
She's been a working musician-activist since the 1970s, a blues-folk aficionado who became a confident performer blessed with an emotive singing voice and a recognizable touch as a bottleneck guitarist.
Bonnie Raitt
With opening act HAPA

In concert: 7 p.m. Saturday

Place: Waikiki Shell

Tickets: $27.50, $45 and $55

Call: 591-2211 or online at www.ticketmast.com

Also: 7 p.m. Sunday at A&B Amphitheater, Maui Arts & Cultural Center; tickets $39, $49 and $59; call (808) 242-7469 or visit www.mauiarts.org
Raitt could've been an artist and fan favorite for the remainder of her career, but she received even wider commercial appeal when she won four Grammy awards in 1990 -- Album of the Year, Best Female Rock Vocal and Best Female Pop Vocal Performance -- all for her breakout "Nick of Time" album. She also shared a Grammy with venerable bluesman John Lee Hooker for Best Traditional Blues Recording on the duet "I'm in the Mood" from Hooker's "The Healer" album.
Raitt hasn't looked back since. A decade later, she was inducted into the Rock and Roll Hall of Fame. And last year, she celebrated the release of two projects: "Bonnie Raitt and Friends," taken from a VH1 Classic concert in September '05 with guests Norah Jones, Ben Harper, Alison Krauss and Keb' Mo', and "Souls Alike," her very first self-produced album.
Speaking via cellphone while running Christmas errands with a friend, Raitt is cordial and businesslike as she relates where she is now in her busy life.
"We've been on the road since August of 2005," she said. "We're doing a year-and-a-half in promotion of 'Souls Alike' and we'll be doing Europe in the spring."
With the steadfast support of her longtime backup band -- bassist James "Hutch" Hutchinson, drummer Ricky Fataar, keyboardist Jon Cleary and fellow guitarist George Marinelli -- both on the road and in the studio, "Souls Alike" shows a further deepening of Raitt's music.
AND RAITT is still adept at playing it either quiet and introspective (the opening "I Will Not Be Broken," a melancholy "God Was in the Water" and the lost-love song "I Don't Want Anything to Change"), or sensual and friendly (the New Orleans story "Trinkets" and a funky "Two Lights in the Nighttime").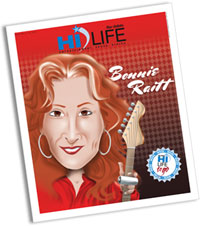 While Hutchinson and Fataar were in her band the last time she played here years ago, she is equally proud of her partnership with Cleary and Marinelli. "George has been with me since 1994's 'Longing in Their Hearts,' originally from Nashville, a very versatile singer and guitarist who I originally met when he was playing with Bruce Hornsby. And Jon is a legendary solo New Orleans artist who moonlights with me."
In 2004 she worked the "Vote for Change" tour, headlining with Jackson Browne and Keb' Mo', leading up to the presidential election. Raitt said she'll probably do the same come '08. "There are a lot more races with progressive candidates coming up, thanks to the war's doing. I'll be doing more once this touring cycle comes to a close." She has also thrown her support behind solar, wind and biomass alternative-energy organizations, in particular, during the past year.
"We've also been tithing some of the income made on this tour to recovery efforts being done in New Orleans. After doing a lot of homework, we decided to support two organizations in particular, Common Ground, who work in the Ninth Ward, giving assistance to food and medical clinics there, and the New Orleans Musicians' Clinic."
Raitt also continues to offer special meet-and-greet/ticket auction packages through the Charity Folks Web site, as she will for her Hawaii appearances Saturday at the Waikiki Shell and Sunday on Maui. "We've raised about three hundred grand over this tour, going to both hurricane recovery and alternative energy support groups."
RAITT feels she's found her niche, one she shares with other popular musicians of her generation.
"People like myself, Tom Petty, Sting, Bruce Springsteen -- I think we're all doing the best music of our careers. And when I opened three shows of the latest Rolling Stones tour, I didn't see any proof of comments I've heard from people decrying that they're getting old and coasting."
One of her strengths is her constant engagement and enthusiasm for life. Take, for example, a trip to Mali in Africa during a self-appointed hiatus between 1995 an '98. "I'd love to find time to go back there. It happened during a juncture in my life when I traveled to places like South Africa and Zimbabwe ... but I relate to the music of Mali more, since it's the home of the blues." (One gem in her repertoire is her cover of Mali musician Oliver Mtudzuki's "Hear Me Lord," originally done for her "Silver Lining" album of 2002 and also found on the "Friends" DVD.)
Besides her voice and that flaming red mane, Raitt is also distinguished by her distinctive guitar sound. When told it was reminiscent of her late friend Lowell George of Little Feat, she said, "I first met Lowell in the early '70s. ... He, myself and Ry Cooder were all inspired by the same blues people. We're all from that same school and we were very close. It was sad when we lost him in 1979."
But Raitt continues to look forward -- in business as well as music.
"I have to keep my eye on the sales trends," she said. "For my last two records, the singles taken from them were played on AAA (Adult Album Alternative) radio formats, which is still a thriving format. ... It's the markets in the major cities that keep core artists like myself successful. ... Downloading makes up about 10 percent for myself, but that's changing every day, as how music is delivered to the consumer is being consolidated and shrinking. But my fans still tend to play records."