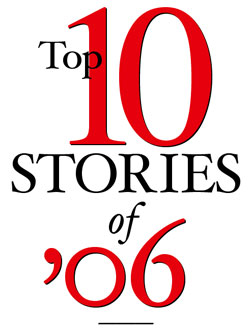 WITH HAWAII residents continuing to argue about whether the islands have become too congested, too crowded and too noisy, nature made its feelings known in 2006.
It shook the earth under their feet, it clobbered them with 43 straight days of rain.
A dam broke in Kauai, killing 7 people; 48 million gallons of sewage spilled onto Waikiki, tarnishing the state's top tourist destination; And hundreds of thousands of Oahu residents lost power for more than 12 hours after a pair of earthquakes struck off the Big Island.
In short, mother nature showed who's really boss in Hawaii - the main player behind several of the top 10 stories of the year.
1. Topping the list were a pair of early-morning earthquakes off the Big Island that were felt throughout the Hawaiian chain on Oct. 15. A magnitude 6.7 quake was followed by a 6.0 quake. The shaking damaged roads, bridges, port facilities, churches, hotels and homes - and rattled people's nerves.
On Oahu, nearly the entire island lost power for hours. On the Big Island, damages were expected to top $100 million. And while no one died, the repercussions of the quakes are likely to last well into the new year.
2. On March 14, the Ka Loko dam on Kauai broke. The force of the flowing waters destroyed 10 homes, damaged dozens of others and killed 7 people. The break led to a statewide inspection of all dams and opened what may be a lengthy legal battle to establish responsibility.
3. Often called one of the most famous stretches of beach in the world, the Waikiki shoreline was nearly empty after a sewer pipe broke in March. City officials directed the fouled waters into the Ala Wai Canal, which empties on one side of Waikiki. It was, to be certain, a huge drag on the tourism industry, with news of the 48-million gallon spill spinning across the globe. But it was residents who suffered the brunt of the tainted waters - with at least one death blamed on it. Many residents took months before returning to the shoreline.
4. One reader complained after the Star-Bulletin referred to March's rains in biblical terms. But surely after 43 straight days of the wet stuff, it was hard to diminish it. With the Ka Loko dam break, the 48-million gallon spill, the flooding of Kahala Mall (with waters cascading into one movie theater as "Ice Age: The Meltdown" was playing), homes sliding down hillsides, roads sliding down hillsides, the rains were certainly biblical-like.
5. The bloodshed in Iraq did not leave soldiers with Hawaii ties untouched, with 2006 proving to be one of the deadliest yet. Throughout Oahu, different branches of the armed services held somber and touching memorials for dozens of soldiers and Marines who were killed in Iraq. In all, 55 soldiers with ties to Hawaii were killed in Iraq and Afghanistan in 2006.
While most were based with Hawaii units but from elsewhere, five serviceman who died in Iraq in 2006 were from the islands. They were: Staff Sgt. Henry K. Kahalewai, 43, of Hilo; Staff Sgt. Jeffrey S. Loa, 32, of Waianae, Hawaii; Sgt. Steve M. Sakoda, 29, of Hilo; Hawaii; Staff Sgt. Metodio A. Bandonill, 29, of Honolulu; Pvt. Lewis T. D. Calapini, 21, of Waipahu.
6. On Nov. 21, Honolulu police officer Steve Favela suffered multiple injuries after crashing in his motorcycle as he escorted President Bush at Hickam Air Force Base. He died five days later, the sixth Honolulu officer to die in the line of duty since July 1995. "Officer Favela risked his life every day to protect the people of his community. In this time of great sadness, we give thanks for his life of service," President Bush said in a statement issued by the White House.
7. In January, U.S. Rep. Ed Case announced he was challenging longtime U.S. Sen. Daniel Akaka for his seat in Congress, shocking his Democratic party and setting the stage for a dramatic year in politics in Hawaii. Case said he was running because the state had to prepare for a new generation of leaders in Congress.
"For me, it is exactly the right thing to do, not just for me, for Hawaii. I don't look at it as a gamble; I look at it as the right thing to do," Case said at the time.
But his opponents vilified him for stepping out of line. Supported by the party's major players, Akaka would go on to win the Democratic primary - with 54 percent of the vote to Case's 45 percent. Akaka said Case's challenge had united the party - but it had also shown the strains. Akaka went on to easily beat Republican state Rep. Cynthia Thielen in the general election.
8. The historic City Council vote approving a mass transit system on Dec. 22 is likely to affect many generations. At an estimated cost of nearly $5 billion, it's also the largest transit system ever approved in the state. But many residents still wonder if the city will have enough money to pay for the 28-mile proposed route, and if enough people will bother to use it - whether it's light rail or buses running on a dedicated lane.
9. What may have been the largest traffic backup in state history in September had some drivers on Oahu wishing for light rail. It all started after an Army truck carrying a huge excavator slammed into a pedestrian overpass, shutting down all six westbound lanes for about 13 hours and affecting the evening commute for hundreds of thousands of people. Some didn't get home until the middle of the night. State officials were criticized for not doing enough to alleviate the problem, and some were left wondering if a state of emergency should have been declared.
10. In May, the Legislature ended an 8-month experiment in price control, voting to suspend a gasoline cap indefinitely. Critics said the cap wasn't working, while supporters said it was being killed before it had a chance to work. In the end, nearly everyone agreed on one thing: Gasoline is sure expensive in Hawaii.