---
FAST FACTS HAWAII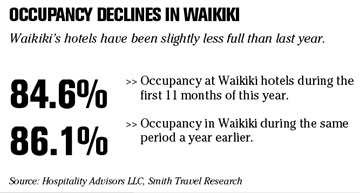 ---
NATION


McAfee will fire 125 workers worldwide McAfee Inc

., the second-biggest maker of security software, will fire 125 employees worldwide, mostly in sales and marketing, to cut costs and invest in growth areas.

The steps will save about $10 million to $12 million a year and improve the company's sales and marketing efforts, Santa Clara, Calif.-based McAfee said yesterday.

McAfee faces new competition from Microsoft Corp., the world's largest software maker, which began selling security software to consumers in April. Symantec Corp., the world's biggest maker of security programs, is expected to introduce next year a software service that combines security, file backup and other features.

The McAfee firings represent about 4 percent of the company's work force, based on its headcount at the end of 2005. McAfee said the cuts would help it compete.
Betonsports to repay customers
Betonsports Plc,
the British Internet gambling business that last month consented to an order banning it from the U.S. market, will repay the nearly 5,000 customers who have filed for refunds, its attorney said yesterday.
Jeffrey Demerath, of the St. Louis-based law firm Armstrong Teasdale, said in court filing this week that his client's repayment plans are hampered by an Antiguan court order barring it from distributing assets without that government's consent.
U.S. District Judge Carol Jackson's November decree ended a four-month civil suit filed against Betonsports by the U.S. Justice Department. The judge's order directed the company to give back customer money and set up a toll-free phone line for each of its Web sites, providing refund information. The company took in $1.25 billion in wagers in 2004, 98 percent of which came from U.S. bettors.
Delta Air Lines narrows loss to $49 million for November
ATLANTA »
Delta Air Lines Inc.
reported yesterday its loss narrowed in November to $49 million, which analysts said may bode well for the nation's third largest carrier to fly solo when it emerges from bankruptcy.
The November figure compares with a $181 million loss it posted for the same month a year ago, the company said.
Law firm stays on top of the deals business
Sullivan & Cromwell
, hired to advise on four of the 10 biggest deals this year, retained its title as top mergers and acquisitions law firm for the third year in a row, with $487.9 billion in transactions.
The figure represents a 48 percent rise from last year. The firm represented San Antonio-based AT&T in its $83.1 billion buyout of BellSouth Corp., the highest-valued global deal in 2006, according to data compiled by Bloomberg.
---
BUSINESS PULSE