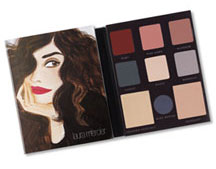 COURTESY NEIMAN MARCUS
Laura Mercier makes color choices easy with color "book" palettes offering everything you need for lips, eyes and cheeks. This Signature Collection Book is $45 at Neiman Marcus.
Makeup counter good place for free tips
There's no cost in taking the first step to improve one's appearance in 2007. Makeup artists at cosmetic counters at Macy's and Neiman Marcus are always prepared to offer complimentary makeovers.
Look for a makeup artist with a look you like. Chances are he or she can reproduce it for you. Brands are also associated with a particular look, whether radiant and natural as at Chantecaille, chic and sophisticated as at Laura Mercier, or glamazon bold as at M.A.C. Those who work those counters are trained to recreate those looks for clients. So, take some time to think about how you want to be perceived and what image you're aiming for.
If you're too shy to be a guinea pig, stores such as DFS and Sephora have testers that shoppers can try on the spot to experiment with colors and textures, without supervision.
Kensei Takeda of Chez Kensei Salon said those who approach him seeking advice on how to improve their appearance tend to be between the ages of 40 and 60. Or, they're brought to him by friends who drop them off with a statement of exasperation, like, "She's kind of hopeless," and expect him to perform a miracle.
But transformations need no such magic. All that's needed is a bit of willpower to follow a few basic tips that Kensei says anyone can use:
1. Sunscreen and moisturizer are necessary for men and women of all ages. Preventive care is easier than repairing damaged skin.
2. Lighter hair color with highlights works best to mask gray hair, because highlights leave no demarcation as to where dark roots begin. With one solid color, roots may require recoloring in four weeks. With highlights that allow for more variation in color, a treatment could last three months.
3. When choosing foundation, look for a color close to a half-tone lighter than your skin color.
4. When penciling-in eyebrows, add a lift to the outer corners to bring a subtle lift to your countenance.
5. Dark clothing can be harsh and aging. Lighter colors are warmer, fresh and youthful looking and help soften appearance.
6. No physical makeover will work if your head or heart is not prepared to make a change. "There are some people who are always talking negative, not positive," Kensei said. "It's important to make yourself happy, then you can have confidence."