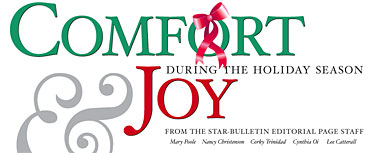 ---
Removing stops will ruin bus system
If operators of the TheBus system want to discourage ridership they can continue removing bus stops. In my small neighborhood, Palolo, they took away 13. Then they removed the covered bench stop from in front of the Sacred Hearts Academy, and now the girls have to walk down to St. Patrick's and share one small, uncovered bench, exposed to sun and rain.
Barbara Ikeda
Honolulu
If only Kamehameha were hanging 10 ...
Isn't surfing the sport of kings? If the Hawaii quarter design showed King Kamehameha surfing in front of Diamond Head, we would have had a surefire winner with little debate ("Hawaii Quarter: And then there were 5,"
Star-Bulletin, Dec. 22
)! My only other comment on the final designs is that the waves in Waikiki don't wall up like the one depicted on the surfing commemorative quarter.
Pat Kelly
Honolulu
Merry Christmas from Honolulu mayor
This is one of my favorite times of the year, a time to enjoy the companionship of loved ones, to bask in the cheer and good will of the holidays and to put aside our problems so we can greet the new year with renewed hope and optimism.
But this can also be a poignant time. For many of our neighbors, the holidays this year are a time of keenly felt separation as their loved ones serve our nation in places far from these island shores. To them, I offer my prayers that peace and joy will someday prevail in those troubled lands, and that their sons and daughters, husbands and wives, brothers and sisters, will return safely to their homes and their families.
And to all of you, may your Christmas be filled with all the joys that make this season special, and may God bless you and yours, always.
Gail and I wish you a Mele Kalikimaka!
Mufi Hannemann
Mayor of Honolulu
11-cent hike in tax on gas is unfair
They say now that the tax credits for ethanol fuel will expire Dec. 31, we will pay an additional 11 cents a gallon for ethanol gas.
But from what I've read, and it's more than just one article or book, ethanol gasoline was created to help with air pollution and the farmers.
Do we really have air pollution in our state that sits in the middle of the Pacific Ocean?
Do we really need an 11-cent gas increase when we're already stuck with an increase in the general excise tax for a rail system, thanks to the pork-barrel money our Democratic congressmen and mayor committed to without thinking through everything? How can they say they're looking out for our best interests?
Elaine Hoffman
Honolulu
It will cost us more if we don't build rail
Nearly 50 years ago, I attended my first community meeting in Hawaii. Legislator Tom Gill stated that unless we got fixed rail in Honolulu, we would be concrete-to-concrete. A short while after that, I testified at a hearing in Pearl City and said that adding a third lane to the Kamehameha Highway would be a big help to "solve our traffic problem."
We now have added 16 lanes and every day commuters face bumper-to-bumper traffic. It is not just that hours of commute time causes stress, but it pollutes the air and adds to many health problems and is getting very costly.
As the former manager of the alternative transportation program at the University of Hawaii, I drove an electric vehicle 40,000 miles in three years, trouble- and pollution-free. We also had a methanol test program that had some promise.
But the greatest need is for fixed rail transit. (Star-Bulletin, Dec. 23) I have traveled in Asia, Europe and around the mainland and have found such transportation very satisfactory.
I am troubled by the opposition of City Councilman Charles Djou and a few others who have no plans to utilize the service where they live. They mainly fear the cost, but if we do not have fixed rail, the costs of gasoline, time wasted on the highways and health problems will prove far greater.
Thank goodness we have a progressive mayor, a wise City Council with knowledgeable and experienced leaders like Gary Okino, the Legislature and our congressional delegation, who have promised the needed support.
D. Richard Neill
Aiea
Closed offices cause breathing trouble, too
As a former smoker, I appreciate clean air. However, I can't breathe polluted politics. The smoking ban is a violation against citizens in general, any way you look at it.
Not too long ago we lived in open air, and smoke just vanished. Second-hand smoke was unheard of in those days. Perhaps it was during the 1970s that we were confined in enclosed spaces for most of our lives. There's a difference between ventilation and air-conditioning. That's when second-hand smoke became a pollutant.
Every time I go into the office, my sneezing fit starts. Such things as perfume, carpet and shelf dust, mold and ink flakes from copier paper trigger my fits.
What this means is that enclosed spaces are the health hazard, not the irritants. This is culture, a culture of comfort. Smokers are scapegoats for our indulgence. We are supposed to be more civilized today; that's why discriminating against smokers specifically is wrong.
Like car insurance, the law should affect only insurance premiums; both for health and public liability. Those responsible for providing enclosed spaces should make policy on prohibition, privately.
Michael S. Teruya
Honolulu