---
FAST FACTS HAWAII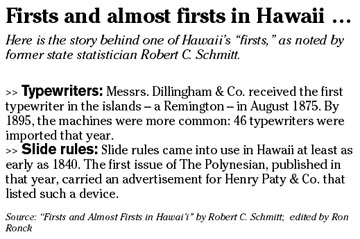 ---
NATION


DVD players move past VCR players

Eighty-one percent of households now own a DVD player, while just over 79 percent have a VCR, according to

Nielsen Media Research

's third-quarter home technology report.

This is in a sharp contrast to 1999's survey results, which showed that almost 89 percent of households owned a VCR, while less than 7 percent owned a DVD player.

"This study shows the culmination of a long battle for share of consumers," said Paul Lindstrom, Nielsen's senior vice president of custom research. "We now see the popularity of DVDs has finally surpassed that of VCRs."

DVD households also rent DVDs twice a month, but households with VCRs only rent once a month.

Nielsen's survey also showed that 73 percent of homes currently have a computer, while nearly 27 percent of homes rent or own an MP3 player and more than 16 percent of homes own a PDA.

Households with children or teens are more likely to own a computer and those homes with children ages 12 to 17 are two and a half times likely to own or rent an MP3 player.

Nielsen surveyed 1,253 American homes by telephone four times per year.
Review your professional goals
When reflecting on your personal growth during 2006 and deciding on resolutions for the new year, take time to consider your professional goals and achievements too, according to one expert.
"It's an ideal time to take a realistic look at where you are now, where you expect to be going forward, and how satisfied you are with both," said Doug Matthews, executive vice president of operations at Right Management, an outplacement company.
Matthews offers the following tips:
» Your company's future: Perhaps you and your company are a great match. But if the company is flailing, future opportunities for career growth could be limited.
» Your resume: If your skills aren't in demand or your professional knowledge isn't up to date, try doing some fine-tuning in the new year.
» Your development: If your boss keeps challenging you with new responsibilities or often asks for your input, you may want to stay put and grow within the company. If not, look around.
» Your likes and dislikes: Do you dread every workday? Do you think a different type of company is best for you? If yes, maybe it's time for a change.
Hewlett-Packard crashed worst
Who or what made the biggest publicity crash and burn in 2006?
According to PRWeek's Book of Lists 2006, Hewlett-Packard Co. committed the costliest public relations blunder when its chairman OK'd spying on company board members and journalists to locate leaks. Not only did the scandal result in the ouster of Chairwoman Patricia Dunn, but it also launched the term "pretexting" into mainstream vernacular.
Rival computer manufacturer Dell Inc. followed on HP's heels with its exploding-laptop fiasco. The story may have not made the list if not for the online video clip that circulated faster than the company's response to the incident.
Vice President Dick Cheney and his hunting accident in February came in third.
Other PRWeek lists included the five brands that rocked (YouTube took No. 1), the 10 business events that caused a stir (the conclusion of the Enron saga topped the list), and the five terms you'd never want to hear again (Crackberry!).
---
BUSINESS PULSE