| | |
| --- | --- |
| | Newswatch |
---
Services for soldier will be held in Hilo
Services including military honors for Army Staff Sgt. Henry Kanehunamoku Kahalewai Jr., 44, formerly of Hilo, will be held Thursday and Friday in Hilo.
Kahalewai died Dec. 15 at Brooke Army Medical Center in San Antonio from wounds caused by a roadside bomb in Iraq on Nov. 21. Kahalewai, who lived with his family in Fort Lewis, Wash., was born in Honokaa, Hawaii, and was a graduate of Hilo High School.
He was assigned to the 1st Squadron, 14th Cavalry Regiment, 3rd Brigade, 2nd Infantry Division, based in Fort Lewis.
Kahalewai is survived by wife Debbie, son Aaron, daughters Azhalane Williams and Alishia Kahalewai, father Henry Sr., brothers Richard and Shawn, sisters Rochelle Sabate and Roxanne Cary, and a grandson.
Services are at 6 p.m. Thursday at Dodo Mortuary with visitation beginning at 4:30 p.m. Graveside service is at 10 a.m. Friday at Hawaii Veterans Cemetery No. 2. Casual attire.
Hours extended for gyms and parks
Most city-run gymnasiums and swimming pools are operating on extended schedules during the public school recess through Jan. 11.
The hours of operation for general public use are from 1 to 5 p.m. The Department of Parks and Recreation is making the adjustment for extended hours for the first time.
Park facilities will be closed on Christmas Day and New Year's Day.
Cell phones sought for medical mission
The Aloha Medical Mission is teaming up with Project Re-Cell to raise funds by recycling old cell phones.
The collection is ongoing, but a concerted effort is being made during December and January. Phones, even broken ones, can be dropped off at a designated bin at one of the following Honolulu locations:
» Aloha Medical Mission Administration, 810 N. Vineyard Blvd.
» Dr. Jorge G. Camara, 226 Liliha St., Suite 407.
» Dr. Ramon K. Sy, 1314 S. King St., Suite 503.
AMM, a nonprofit organization founded in 1983, has sent more than 3,100 volunteers on 84 missions to 10 countries. About 195,000 people have been treated and almost 9,500 surgeries performed free of charge. It also runs a free medical and dental clinic in Hawaii, supports two free clinics in Bangladesh and sponsors an advanced training program for Philippine ophthalmologists.
AMM will receive between $1 and $300 for each phone, depending on the year, make, model and working condition. The phone recycling also benefits the environment, as cadmium from a single phone is capable of polluting 159,200 gallons of water, according to Project Re-Cell.
| | |
| --- | --- |
| | Police, Fire, Courts |
---
LEEWARD OAHU


Mom arrested in death of 1-year-old

Police arrested yesterday the 25-year-old mother of a 1-year-old Ewa Beach baby, who died from abusive head injuries.

The woman was arrested at 1 p.m. in Kapolei at Kamokila Boulevard and Uluohia Street on suspicion of second-degree murder.

The baby, identified as Dante Puni, died Wednesday. He was taken by ambulance from his Ewa Beach home, located at 91-1048 Kai Kala St., in critical condition to a local hospital Monday.

The Medical Examiner's Office found the manner of death was homicide.

The doctor who performed the autopsy at the Medical Examiner's Office said police have asked him to refrain from elaborating on the cause of death and the child's injuries.

It the second homicide case involving an infant in the last week. In the other case, a 1-year-old Nanakuli girl died Monday from shaken and impact injuries to the head. Police arrested the mother's 26-year-old boyfriend, but he was released pending further investigation.
Man is accused of rape in Makakilo
Police arrested a 45-year-old man who allegedly raped a woman Wednesday afternoon in Makakilo.
The woman told officers that she was raped at about 2 p.m. and identified the suspect.
Police arrested him about 12:30 a.m. yesterday for investigation of first-degree sexual assault.
Woman arrested in necklace robbery
Police arrested a 19-year-old woman who allegedly robbed a 17-year-old girl of her necklace in Waianae on Wednesday.
The woman allegedly took the girl's necklace by physical force, police said.
HONOLULU


House fire in Makiki does $1,500 damage

A Makiki house fire that started in a suitcase on the first floor of a two-story home caused an estimated $1,500 in damage yesterday.

Firefighters responded to 1135 Prospect Place shortly after 1:30 p.m. and extinguished the storage-room fire at 2:04 p.m., said fire Capt. Sigmund Oka.

The cause of the fire was undetermined last night.

No one was home at the time except for the dog, a 3-year-old Australian shepherd and Shar-Pei mix named Twinkles, who escaped unharmed.
NEIGHBOR ISLANDS


Help needed to find Big Island escapee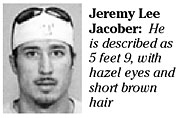 Big Island police are looking for a 26-year-old man who is wanted for escape.
Police said Jeremy Lee Jacober had been serving a 120-day sentence of home detention for a misdemeanor and was ordered to report on Sept. 21 after changing his living arrangements.
Jacober never reported and has not been seen since, police said.
Jacober is 5 feet 9 inches tall, 150 pounds, with a slim build. He has hazel eyes and short brown hair.
Anyone with information is asked to call Detective Uwao Chartrand at 961-2382 or the police nonemergency number at 936-3311, or CrimeStoppers at 961-8300 in Hilo or 329-8181 in Kona.
Oregon fugitive arrested in Kahului
A 27-year-old Oregon woman wanted by federal authorities for aggravated identity theft in Oregon was arrested at the Kahului Airport at about 10 p.m. Thursday by the Hawaii Fugitive Task Force of the U.S. Marshals Service.
Rebekah Jordana Dykhorst fled Oregon earlier this year after suspecting federal agents were investigating her on suspicion of identity theft involving telemarketing and bartenders, a U.S. Marshals Service news release said.
Dykhorst will be turned over to the U.S. Secret Service and will appear at district court for extradition proceedings to Oregon.