---
FAST FACTS HAWAII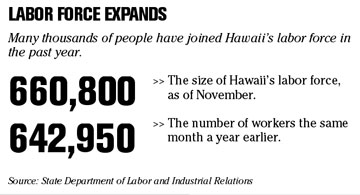 ---
HAWAII


99 Ranch Market is closing; 54 will lose their jobs

A letter from

Sunrise USA Inc.

to the state labor department announces that 99 Ranch Market, an Asian supermarket in Mapunapuna, will close its doors in February.

Sunrise USA Inc. is an independent licensee of California-based 99 Ranch Market, a pan-Asian supermarket chain with stores throughout the Golden State, Arizona, Nevada, Washington and Georgia.

Sunrise USA says a total of 54 employees at the store will be terminated upon closure, no earlier than Feb. 28. The 99 Ranch Market at 1151 Mapunapuna St. is the only one of the chain that is in Hawaii.

The store, which has had a presence in the state since at least 1998, offers a wide range of food products from Hong Kong, Japan, mainland China, Taiwan and southeast Asia. It has a full-service takeout deli, bakery and seafood offerings.
Ala Moana Center to extend hours
Ala Moana Center will extend its hours starting in January.
The mall, owned by Chicago-based General Growth Properties, will be open Monday through Thursday from 9:30 a.m. to 9 p.m., Friday from 9:30 a.m. to 10 p.m., Saturday from 8 a.m. to 10 p.m. and Sunday from 10 a.m. to 7 p.m.
The extended hours are intended to provide customers with more shopping convenience, particularly on Fridays and Saturdays.
General Growth opted to extend the hours based on extensive national research that found 65 percent of its customers want extended hours throughout the year.
The new hours will remain in effect throughout 2007, though some restaurant, department store and holiday hours may vary.
NATION


Deal may end Goodyear strike

CLEVELAND »

Goodyear Tire & Rubber Co.

and a union representing about 12,600 union workers in the United States tentatively agreed yesterday to a new contract that would end an 11-week strike over health care benefits and Goodyear's plan to close a tire factory in Texas.

The third-largest tiremaker and the United Steelworkers union reached the deal after both sides resumed talks in Pittsburgh early this week. The strike began Oct. 5.

The deal allows Goodyear to stick with its plans to close the plant in Tyler, Texas, but not immediately. It provides for a one-year transition period during which workers can take retirement buyouts. The plant employs 1,100 workers.
Google trumps Yahoo in visits
Google Inc.
displaced
Yahoo Inc.
as the world's second-most visited Web site in November and closed in on leader
Microsoft Corp.
, a market researcher said yesterday.
Visitors to Google's sites rose 9.1 percent to 475.7 million in November from a year earlier, while those to Yahoo sites rose 5.2 percent to 475.3 million, ComScore Networks Inc. said yesterday. Both sites trail Microsoft, which had 501.7 million visitors, ComScore said.
It is the first time that Mountain View, Calif.-based Google attracted more visitors than Yahoo, reflecting Google's growing popularity outside the United States. Sunnyvale, Calif.-based Yahoo is still the most-visited site within the country, Reston, Va.-based ComScore said. Microsoft's visitors increased 3.3 percent from a year earlier.
Krispy Kreme's loss shrinks after it reduces expenses
Krispy Kreme Doughnuts Inc.
, the restaurant chain that has delayed filing financials, said it posted a narrower first-quarter loss after it cut expenses.
The shares rose 3.9 percent. The net loss shrank to $6.04 million, or 10 cents a share, from $53.4 million, or 86 cents, a year earlier. Sales fell 22 percent to $119.37 million in the period ended April 30, the company said yesterday in a regulatory filing that had been delayed because of the company's accounting problems.
Operating expenses declined 23 percent to $97.1 million as the company closed stores. Krispy Kreme, the second largest U.S. doughnut chain, said it also had costs of $4 million after it found stock options awarded to non-employee directors in 2000 had been issued on the wrong date.
Carriers follow American Air's ticket increase
Major U.S. airlines raised fares after
AMR Corp.
's American Airlines boosted prices on round-trip tickets by as much as $40, an analyst said yesterday.
The increase marks the tenth time in 16 attempts in 2006 that carriers passed on a broad boost in prices, according to a note to investors by Jamie Baker of J.P. Morgan Securities in New York.
---
BUSINESS PULSE