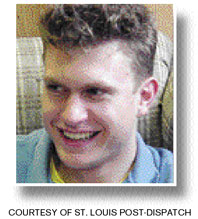 Kaneohe Marine Lance Cpl. Matthew Clark, of Missouri, died Thursday of wounds suffered in battle in Iraq.
Kaneohe Marine was devout and charming
Family and friends recall a young man of talent and drive
After his father, a former Marine, died of lung cancer, Lance Cpl. Matthew Clark considered becoming a priest, according to news reports from his home state of Missouri.
When Clark enlisted in the Marines after a few years at the University of Missouri, it surprised some of his high school friends in St. Louis.
Clark, 22, died Thursday of wounds received while conducting combat operations against enemy forces in Al Anbar Province in Iraq, according to Marine Corps Base Hawaii in Kaneohe, where Clark was stationed as a mortarman with the 2nd Battalion, 3rd Marine Regiment.
He is the 18th member of the battalion to be killed since it deployed to Iraq in September.
Friends and family described Clark as smart, religious, conservative, funny and charming.
"He spoke French and wanted to study philosophy. He could have done anything, but he wanted to be on the front lines," his uncle Todd Chamblin told the Belleville News Democrat.
At Ladue Horton Watkins High School, Clark was a member of the drama club and acted in productions of "Oklahoma" and "Universal Language." He also modeled as child, appearing in ads for a local department store.
"He was probably the funniest guy I knew," Eden Newmark, who attended high school with Clark, told the St. Louis Post-Dispatch. "He was the kind of person you stayed out with until 5 a.m. and didn't even realize it was late."
Clark's mother, Lee Clark-Hundelt, told the Belleville News Democrat that his father, Ken, died shortly after her only son graduated from high school. She remembered admiring her son's strength, faith in God and ability to comfort relatives during that time.
Clark also developed a friendship with Monsignor Vernon E. Gadin, then a local priest, who is now with the Archdiocese of St. Louis.
Clark requested that a priest be present if his mother had to hear the news of his death, according to the St. Louis Post-Dispatch.
Gadin accompanied three Marines on Thursday to Clark-Hundelt's house in St. Charles, Mo., to deliver the bad news.
Clark-Hundelt told the Belleville paper that her son "had a passion for the military from a very young age. He completely understood the symbolism of the flag and the uniform he wore. ... He wanted to be a Marine because he knew it was the hardest thing to do."
Among Clark's decorations are the Purple Heart, National Defense Service Medal, Afghanistan Campaign Medal, Iraq Campaign Medal, Global War on Terrorism Service Medal and two Sea Service Deployment Ribbons.
He served in Afghanistan from May 2005 until January 2006 and deployed to Iraq in September.
Gadin will preside over a Mass for Clark Friday at the Basilica of St. Louis followed by a burial at the Jefferson Barracks National Cemetery in St. Louis, according to the Kriegshauser West Mortuary in St. Louis.