Sherman still playing the name game
Longtime isle columnist Eddie Sherman shares the energy behind his new book
IT'S BEEN almost a year since Eddie Sherman officially retired as the three-dot columnist at MidWeek, but when our waitress at Romano's Macaroni Grill introduced herself as "Cat," Sherman was back in action, asking questions and collecting information as if he had a column due the next morning.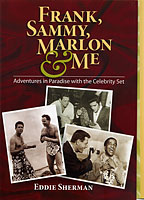 EDDIE SHERMAN
The book: "Frank, Sammy, Marlon & Me: Adventures in Paradise with the Celebrity Set," (Watermark Publishing, $22.95)

Meet the author: 12:30 p.m. Thursday, Bestsellers Downtown. Call 587-7766.

"What's 'Cat' short for?" was only his first question (a shortened version of "Catherine," was the answer). He then moved on to comment on her necktie -- it had cats on it.
When Cat, er, Catherine, mentioned that she was married, he asked how long, where she'd gotten married, and -- exercising the prerogative of a youthful-looking 80-something celebrity journalist -- told her she looked too young to be married.
Some columnists rely on press releases or public service announcements to fill space in print, but Sherman has been known for years for his skill at "working the room" and collecting his own material. Observing the conversation was to see a textbook example of how it's done.
"How can you get any new stories unless you dig it up? How can you get any coal unless you go into the mine? You can't sit in your office and have it all come over the transom, or have someone writing it for you from a PR agency," Sherman said, after Cat had left to check on other customers.
"You have to go out, meet the people, do the interviews, attend as many functions as you can. You gotta get out there, and then write the stories in your style. ... Speaking from a columnist's point of view, those who think they can (just) sit in an office are deluding themselves. You've got to be enterprising to get news."
THAT'S the attitude that made Sherman a legend in local journalism. It also percolates through his new book, "Frank, Sammy, Marlon & Me," a combination autobiography and "who's who" retrospective on his career as a three-dot columnist, radio announcer, stand-up comic and teenage boxer. Sherman includes concise accounts of his encounters with Frank (Sinatra), Sammy (Davis Jr.) and Marlon (Brando) -- and with an eclectic mix of other notables that includes Elvis Presley, Jack Soo, Muhammad Ali, Lenny Bruce, and World War II German missile specialist Walter Dornberger. Written in short chapters and organized celebrity-by-celebrity, the book is a quick and easy read, and almost impossible to put down.
Sherman opens with a brief and surprisingly frank account of his childhood: His Jewish immigrant parents divorced and he spent most of his boyhood in a boys' home. When the facility closed, he was farmed out to third-rate foster homes; a teacher rescued him from one of them after she discovered that he had been brutally beaten. (Years later, Sherman repaid her kindness with an all-expenses paid vacation in Hawaii.)
Sherman trained as a boxer until he suffered a career-ending injury to his shoulder. Invalided out of the Coast Guard, he came to Hawaii in 1942 to work at the Pearl Harbor shipyard. He later worked as a stand-up comic on the mainland, and as a radio announcer in Hawaii, before Buck Buchwach invited him to take over a weekly "show biz" column at the Honolulu Advertiser.
As Sherman writes it: "The Advertiser was struggling, and dollars were scarce, but I had found my calling."
Sherman's column grew to twice-weekly, then to five a week -- and more then 1,000 words per column. He wrote about anything and everything that could be described as "human interest" -- entertainment, "society" and everything in between. To his surprise, reader surveys ranked his column the most popular locally written feature in the paper.
PROMOTER Tom Moffatt, who has known Sherman since they worked together at KGU radio in the 1950s, says Sherman's influence can't be denied, and he had an approach that put people at ease.
"He was 'Mr. Entertainment' from the beginning, and then when he got the column going he had no hesitation about walking up to the biggest (celebrities) and start asking questions," Moffatt said. "The hard-core guys who normally wouldn't talk to people kind of softened -- especially when they'd be hanging around on the beach and Eddie would approach them in a bathing suit and (holding) a notebook. He would approach people and their barriers would come down."
Sherman notes that he avoided "dirt" and "off-the-record" material. "I never went for the dirt or the sensational story. I was more interested in the human interest story. Who they were sleeping with, what they did in their private life, was their business ... and I always looked for the positive. I didn't want the negative. To me, that was private."
Sherman keeps a few things private in his book as well. He doesn't identify the "local show-business personality" who initially declined to perform at an "Ariyoshi for Governor" rally/concert at Aloha Stadium in 1975, nor does he name the Advertiser employee who sabotaged his friendship with Brando. On the other hand, he describes how he was "betrayed, double-crossed" by Richard Boone, and reveals how Bob Hope's offer to do a benefit for "a well-known island hospital" turned into a financial disaster for the hospital.
Sherman says that a three-dot columnist's most important attribute is being interested in people and what they're doing. A columnist must also be able to entertain.
"I tried to make (my column) as much of my style, and the way I wanted to read a column, as possible. That's why I put in the "slanguage" and the phonetic spelling, because -- besides communication -- you have to look for the entertainment value. I wanted to communicate and entertain. That was my goal."
As for content, he adds, his column consisted of short items -- the pure "three dot" format developed by Walter Winchell -- not paragraph-long reviews of plays, movies or concerts.
"Winchell was the greatest columnist in America, and that was his own style that he developed. I was reading Winchell when I was 10 years old, selling newspapers in Boston, and when I was writing here in Hawaii, using Hawaiian words and (the) slanguage I developed, it became my style."
ANOTHER important part of Sherman's style -- he did not write about himself.
"I didn't feel that I was the subject. That wasn't my goal. The goal was to write about (other) people -- not me ... it was enough with my name on top and a picture up there. That was enough."
Summing up, with his book now in stores and several other projects keeping him busy, Sherman feels fortunate that fate brought him to Hawaii. From then on, he had a knack for being in the right place at the right time.
"Without Hawaii, no matter where I would have wound up, I don't think that I would have had all the blessings that I got here."